Everything started with a creative crisis I had in 2013. Even if I love my daytime job of website designer, I was frustrated because I wanted to make something more personal and physical.
I always had a passion for digital illustration, but I didn't want do just an art book: I wanted to create an item that could be used for something. I saw 52Aces, a project of Zeixs, and I've realized I wanted to design a deck of playing cards.
The Evil Deck
I was always fascinated by antagonists and evil characters. Usually they're more interesting than the "good guys", so I've decided that my deck had to be "Evil". Design The Evil Deck was not easy at all. It was my first project, and I knew nothing about the Playing Cards World. I lost interest in it for three times, and it took almost a year to design the first version.

In addition to design issues, there was a technical issue. I didn't had idea where to get the funding for print my deck; Kickstarter was not available in Italy in that time.
I've asked several companies, but no one was interested in financing it. Meanwhile, I improved The Evil Deck, producting a website and a series of silly retro animations:
In march 2014, I saw a contest on the Discourse Playing Cards Forum. The contest, called DDDC, offered to the winner 432 decks printed by Expert Playing Cards Co. Here is my first interview on Kardify about that.
Since I was struggling to find both funds and a printer, I thought it was a good idea partecipate.
The 1st of July 2014, Evil Deck won the DDDC, making this much easier for my playing cards career. I met a lot of awesome people of the playing cards world: some gave me hints, other gave me constructive criticism, others opened some doors.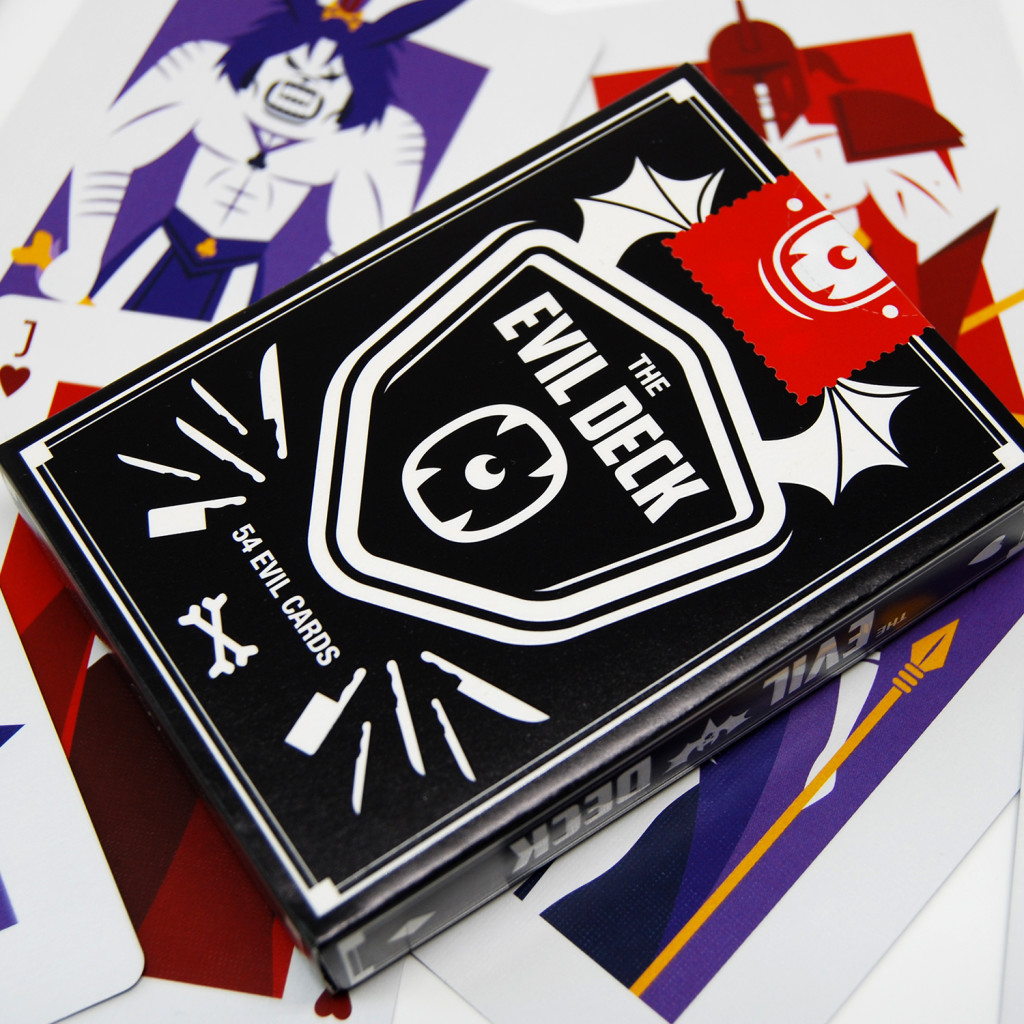 Anyways, some days after the DDDC, I was working already at a new project, The Good Deck.

Good Deck wasn't funded for a lot of issues, but I was "secretly" working to a new crazy project…
Delirium Prism, UC deck of 2015
Evil Deck and Good Deck are awesome products from the design point of view, but many told me that they were too complex to play with. Since I was starting to learn a lot about playing cards, I decided to design a "classic" deck… with a crazy twist.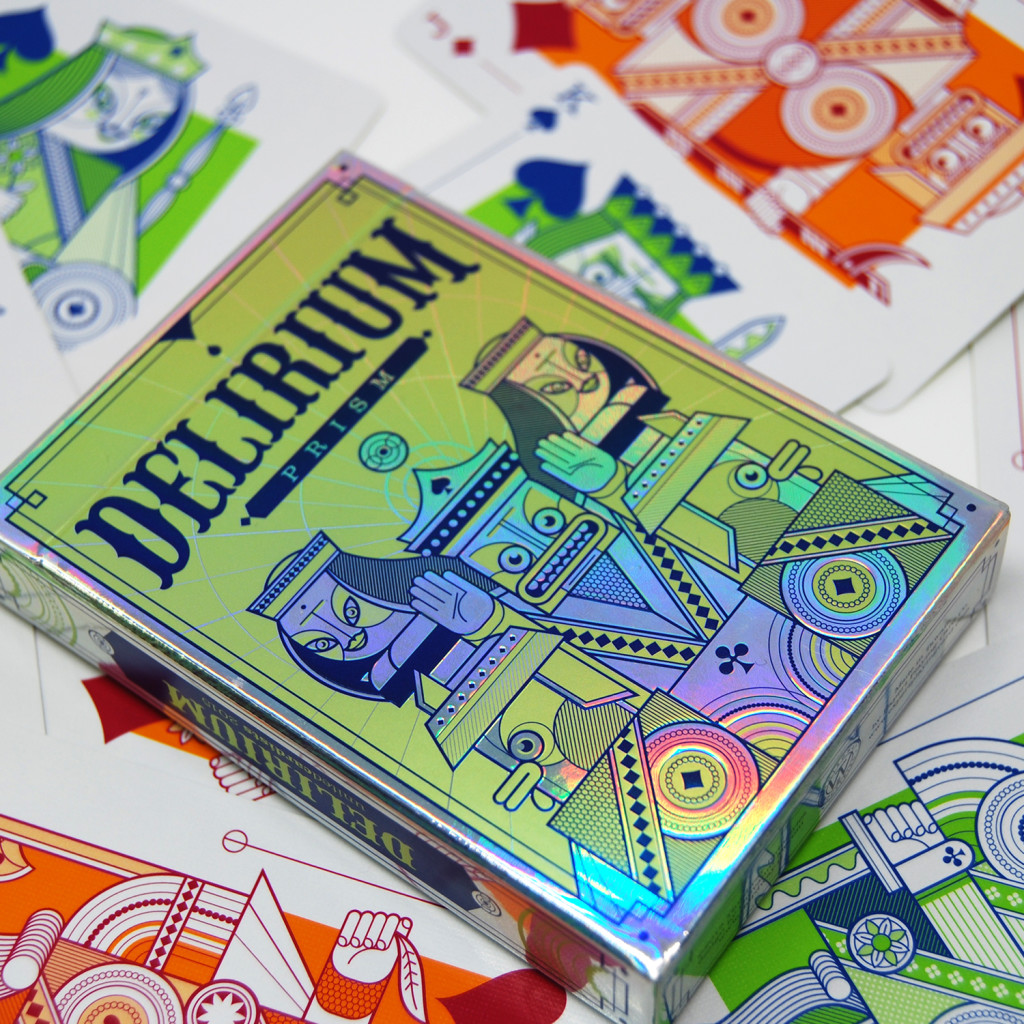 I've designed Thirdway Industries logo specifically for Delirirum – I realized I wanted to do more decks in future, so I needed a brand.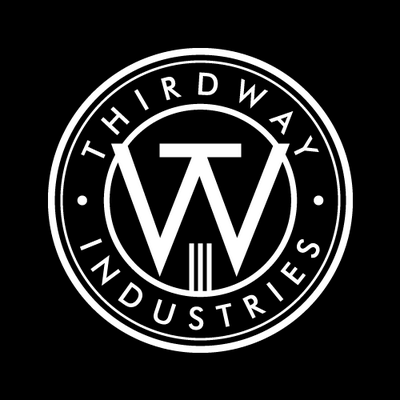 If you're curious about the name Thirdway, I've found the concept in a screenplay book I've read in Art Academy when I was a young student. The book said that a creative always need to find two ways to solve a problem…then choose the "third" one. The whole explanation was a little more complicated than this, and involved "thesis, antithesis and synthesis". Anyways, I consider the "third" way the"creative and unpredictable" one, so it should fit me a bit.
I showed Delirium to Mike, owner of the awesome forum United Cardists, and he gave me the opportunity to make it the UC deck of 2015.
I launched my first Kickstarter it the 1st November of 2014.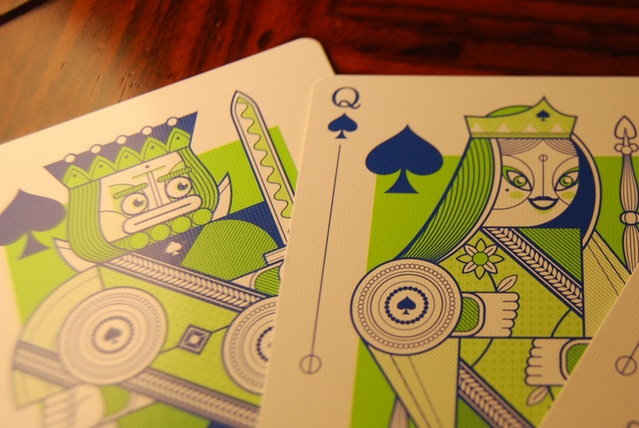 Delirium and Evil Deck arrived together, in may 2015. It was a long wait, but the decks were awesome.
The pretty queens of Omnia
Design Delirium was fun, but I wanted to do something even more classic. I took a standard deck of Modiano cards, and I decided to redesign it my way. After some months of changes, I was happy about everything but the queens – I wanted them "pretty". I started with the Queen of Hearts, and I was very happy with the result.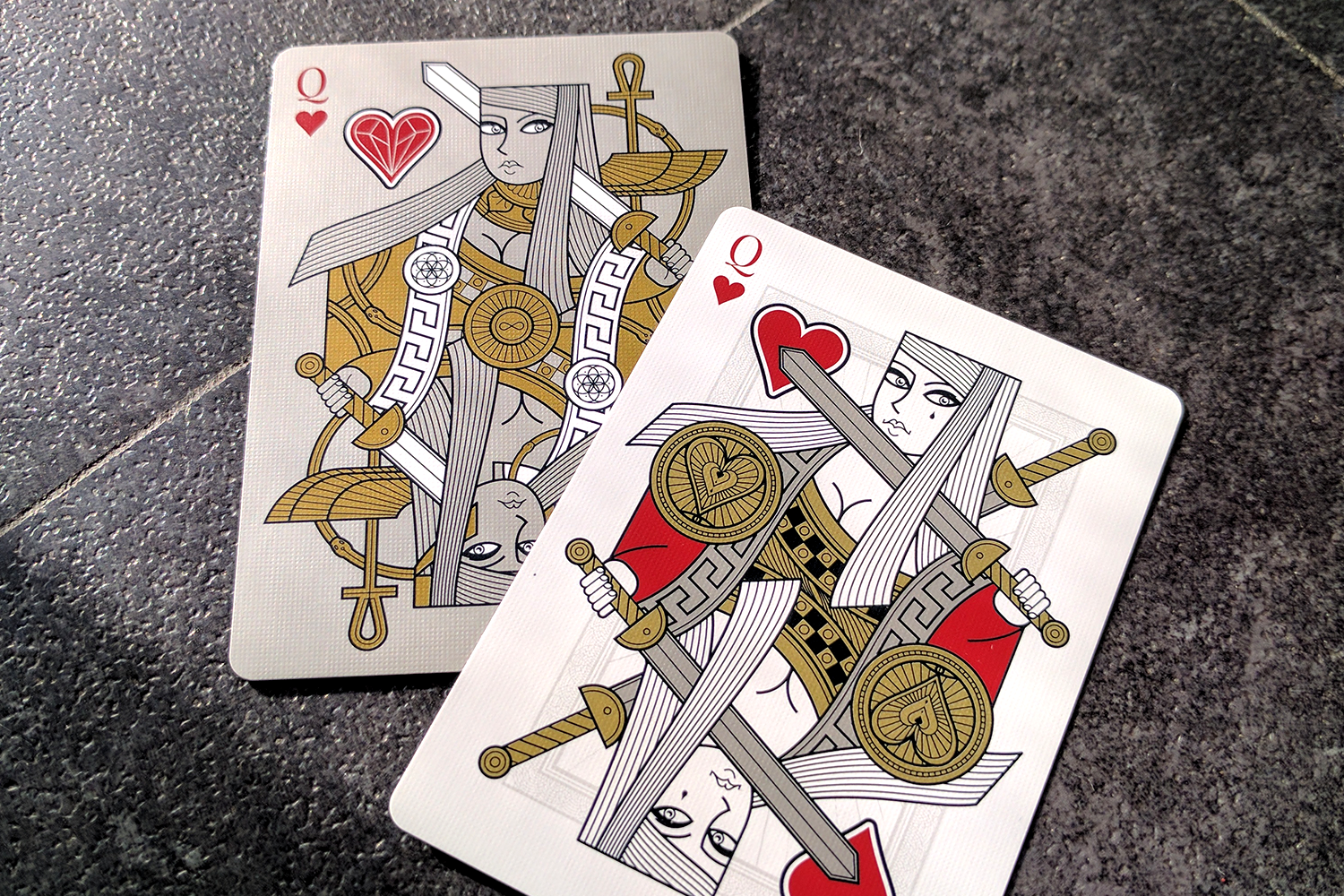 Meanwhile, I was working at the background and the story of the deck, and I decided to introduce a lot of mysteries and symbology.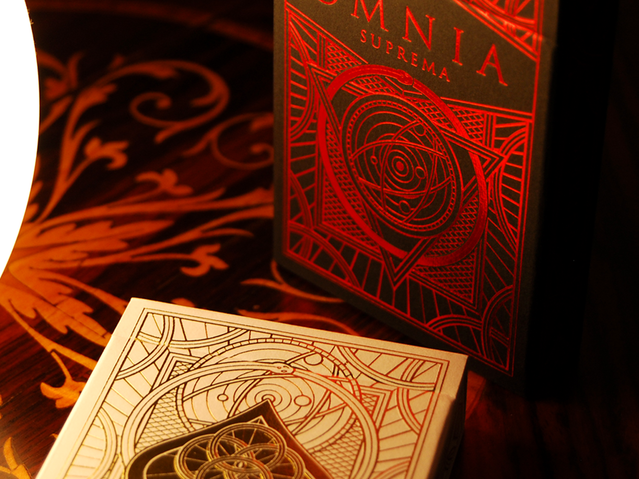 The name "Omnia" means Everything in latin, and it fitted the Uroboros snake I've designed for this new project perfectly.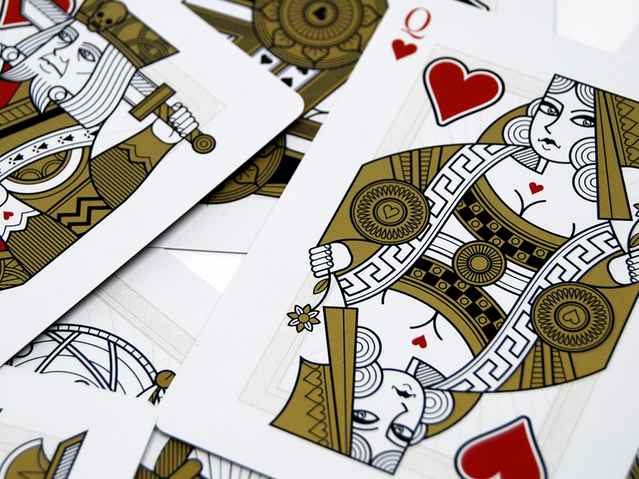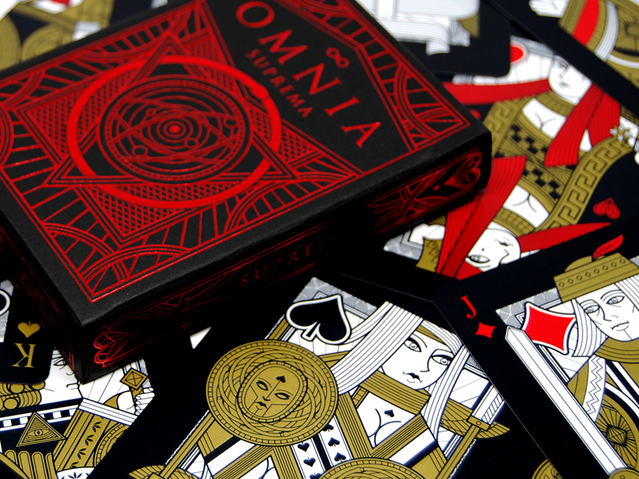 Omnia was launched the 2th of June of 2015 and it was my first real success. It was funded in 4 hours and it raised $44,000+ during the campaign.
Since Omnia, I've decided that pretty queens would have been a trademark of my future decks. So far I think I've kept this promise.
Read more about Omnia: The First >>
Omnia: The Golden Age
Omnia was a big success, so I've decided to extend the series with three new decks. Omnia: The Golden Age was launched the 6th January of 2016. It was a prequel of Omnia: The first.
I've announced Omnia: The Golden Age with a teaser microsite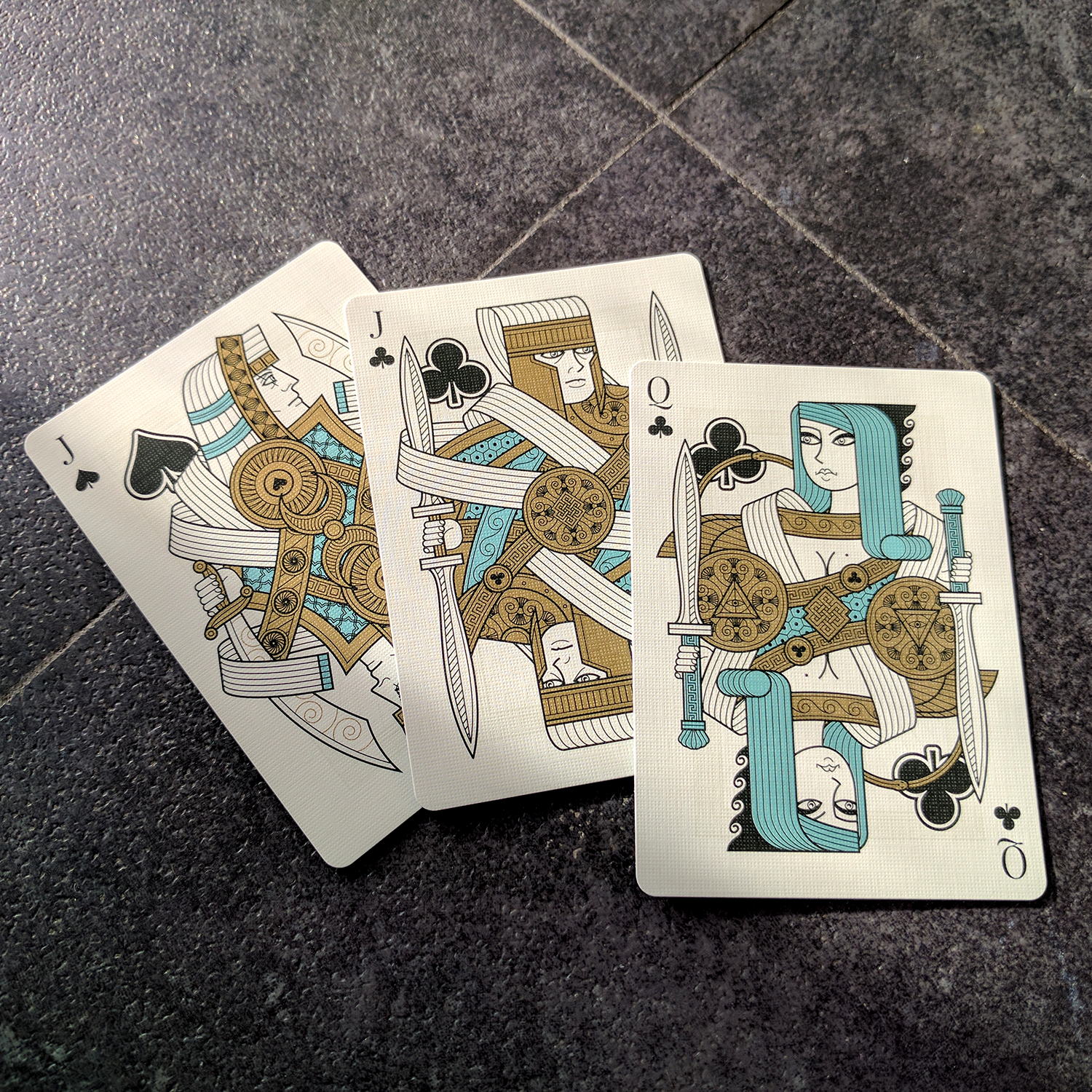 The Golden Age was inspired by the world ancient civilizations. Hearts are Egyptians, Diamonds the Romans, Clubs the Greeks and Spades the Persian/Babylonian. On this project, I've used an awesome "Stardust Paper" for the three boxes.
Omnia: The Golden Age was even a bigger success than the first project. It raised €47,175.
Here are some pics of Omnia: TGA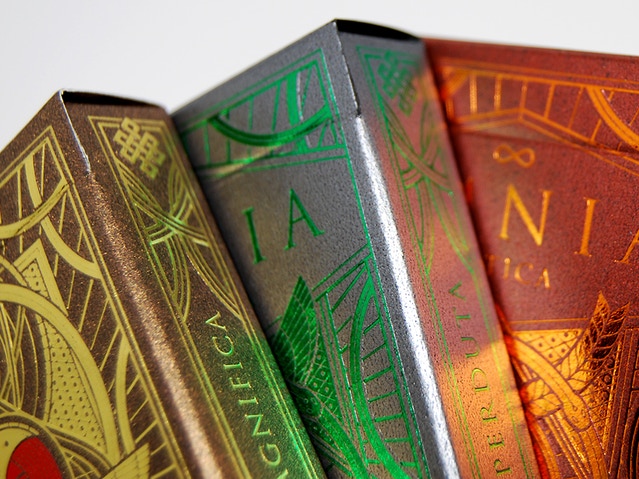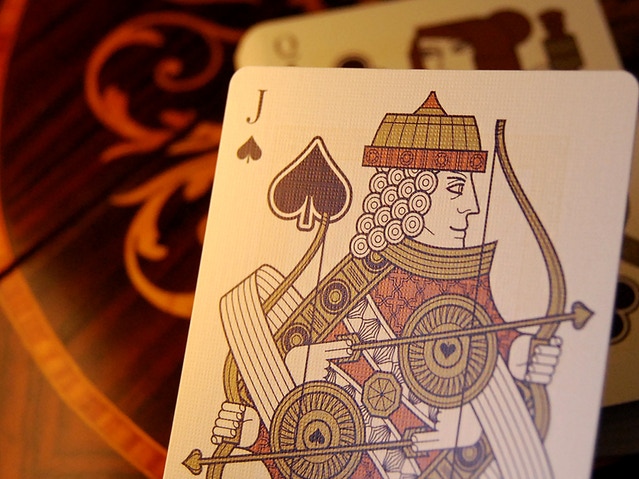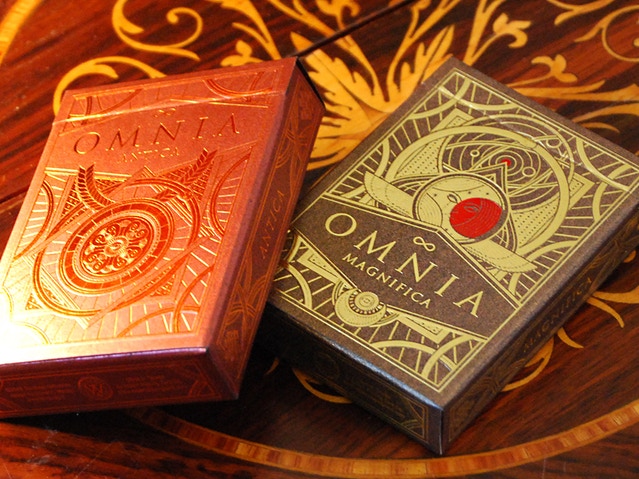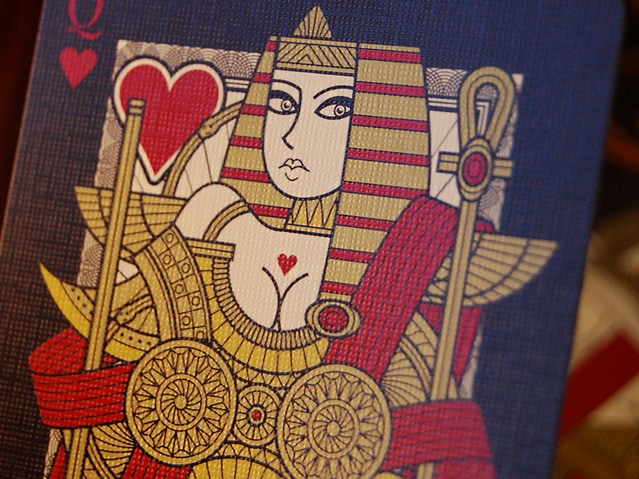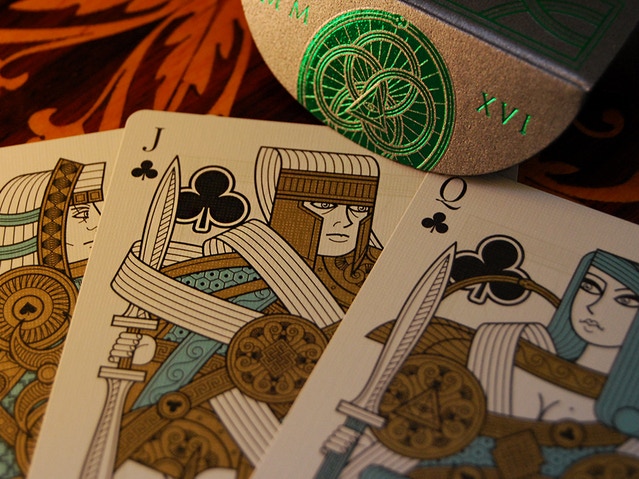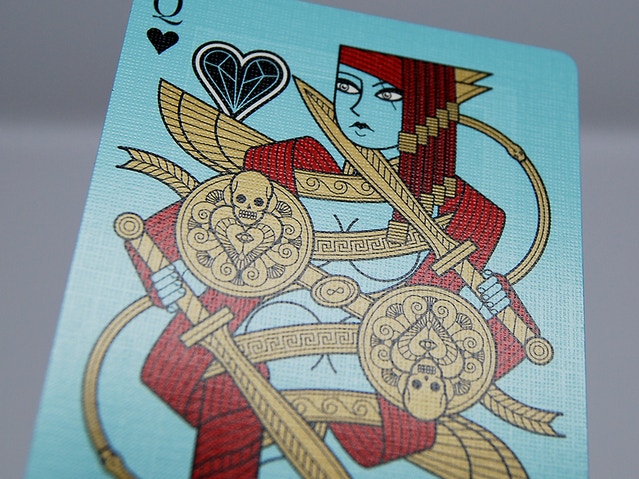 Read more about Omnia: The Golden Age >>
The mythology of Dedalo
Greek Mythology stories were my fairy tales when I was a kid, so, meanwhile Omnia: TGA was in production, I've decided to design a deck with this theme.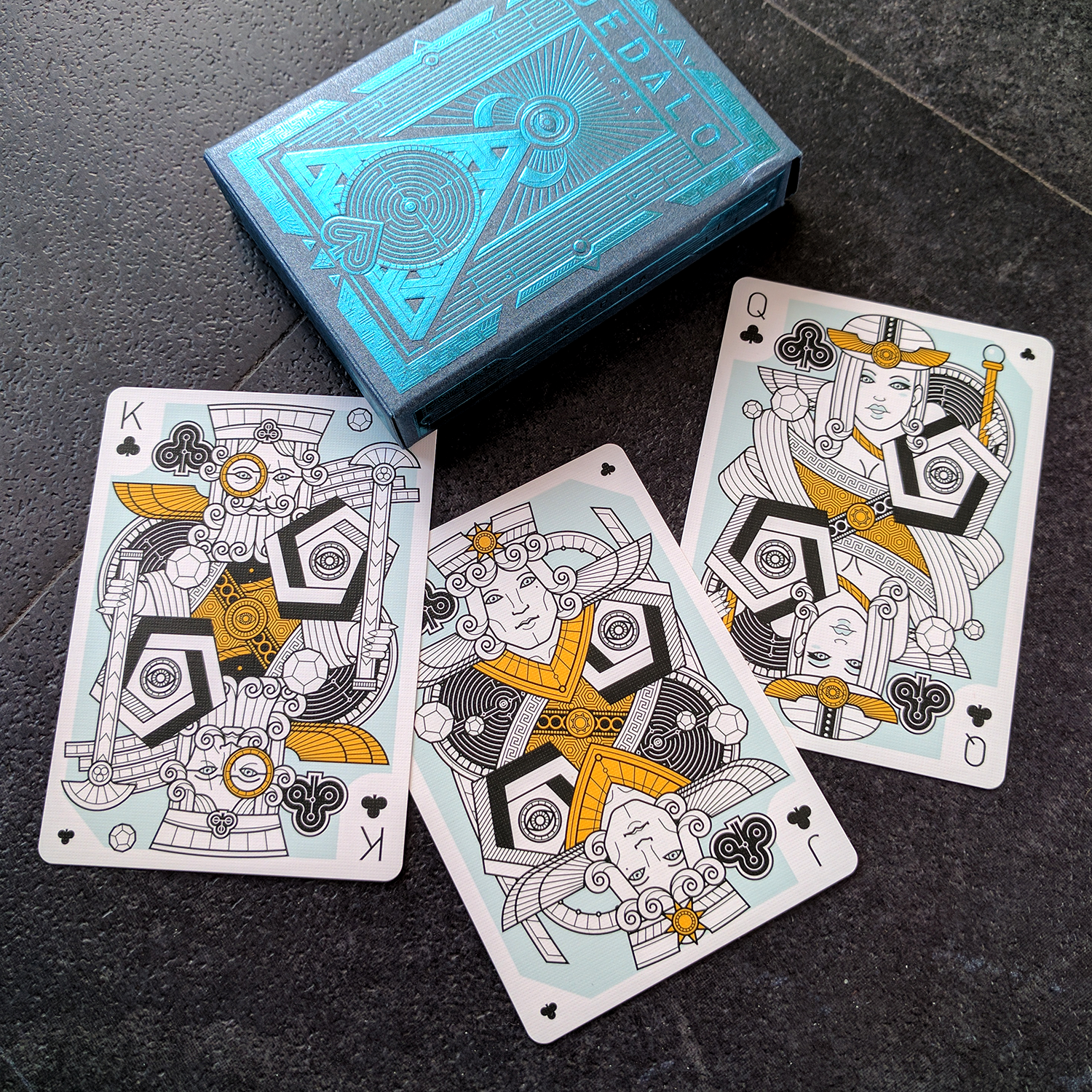 The main inspiration for Dedalo came when I visited the hedge maze of Villa Barbarigo. I always loved Labyrinths, they represent secrets and mysteries and there are a lot of myths around them. Theseus, the Minotaur, Ariadne, Icarus, and of course… Dedalo.
I've teased Dedalo with a cool microsite
Dedalo Kickstarter was launched the June 10, 2016 – it raised €45,342
Here is a video of the Dedalo Collection:
Dedalo series includes three decks: Alpha, Omega, Apeiron and one coin, Dedalo Dracma.
Read more on the lore of Dedalo >>
Pantheon
Dedalo was a success, but I hadn't enough about Greek Mythology: I wanted to do, also, an deck with all the Olympian Gods.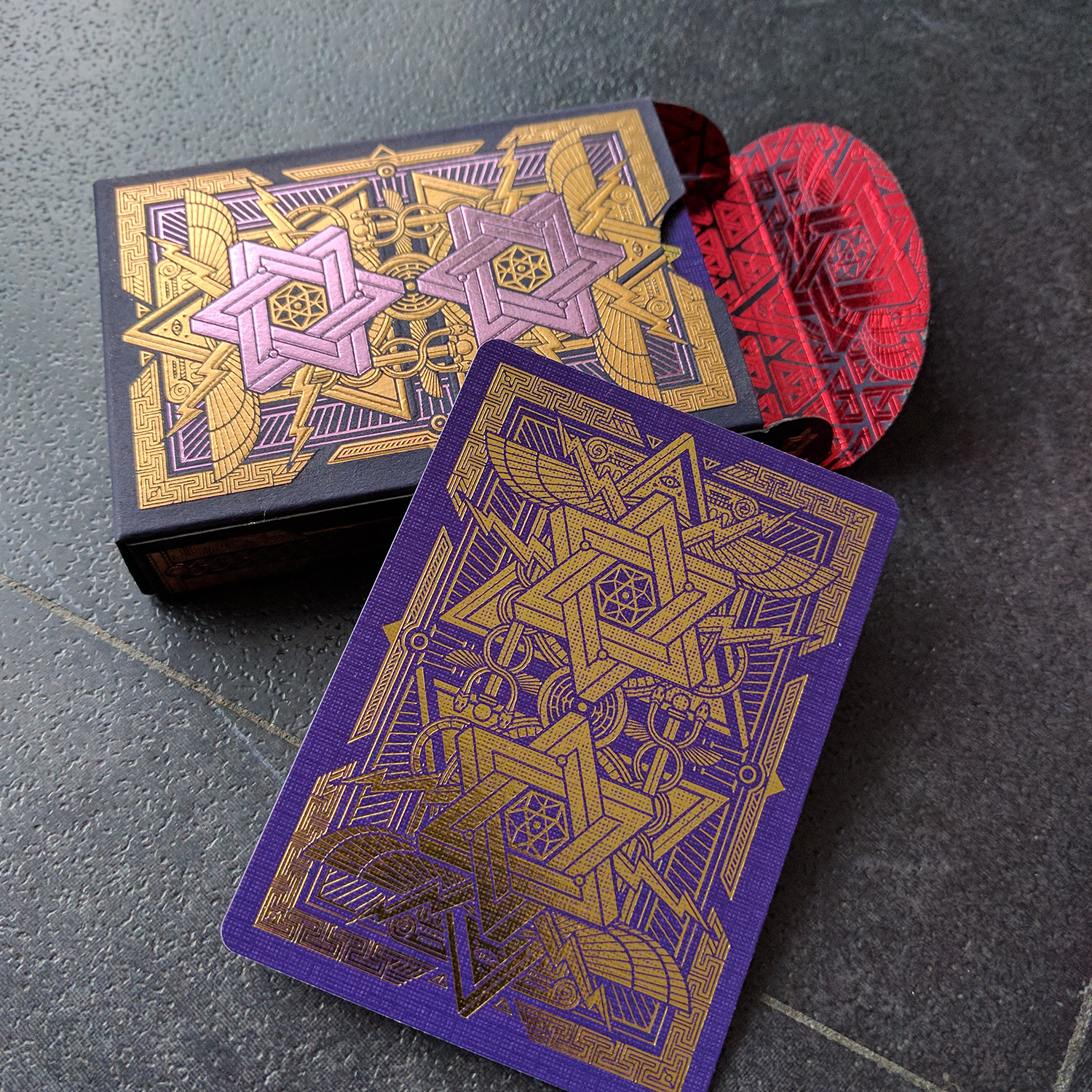 Pantheon is, probably, my most luxurious deck so far. It have hotfoil on backs, and it have a violet and gold tuckbox. I've teased it sending this mail to my newsletter subscribers.
Here is a video of the final product
Pantheon was launched October 12, 2016 and it raised €29,164
SINS
After Pantheon, I wanted something different, and I started SINS. This series was probably one of the most fun I've designed so far: sexy, provocative, but also deep and mysterious.
SINS teaser is one of my favourites, if you want to revive the experience, click here for an invitation to Eden.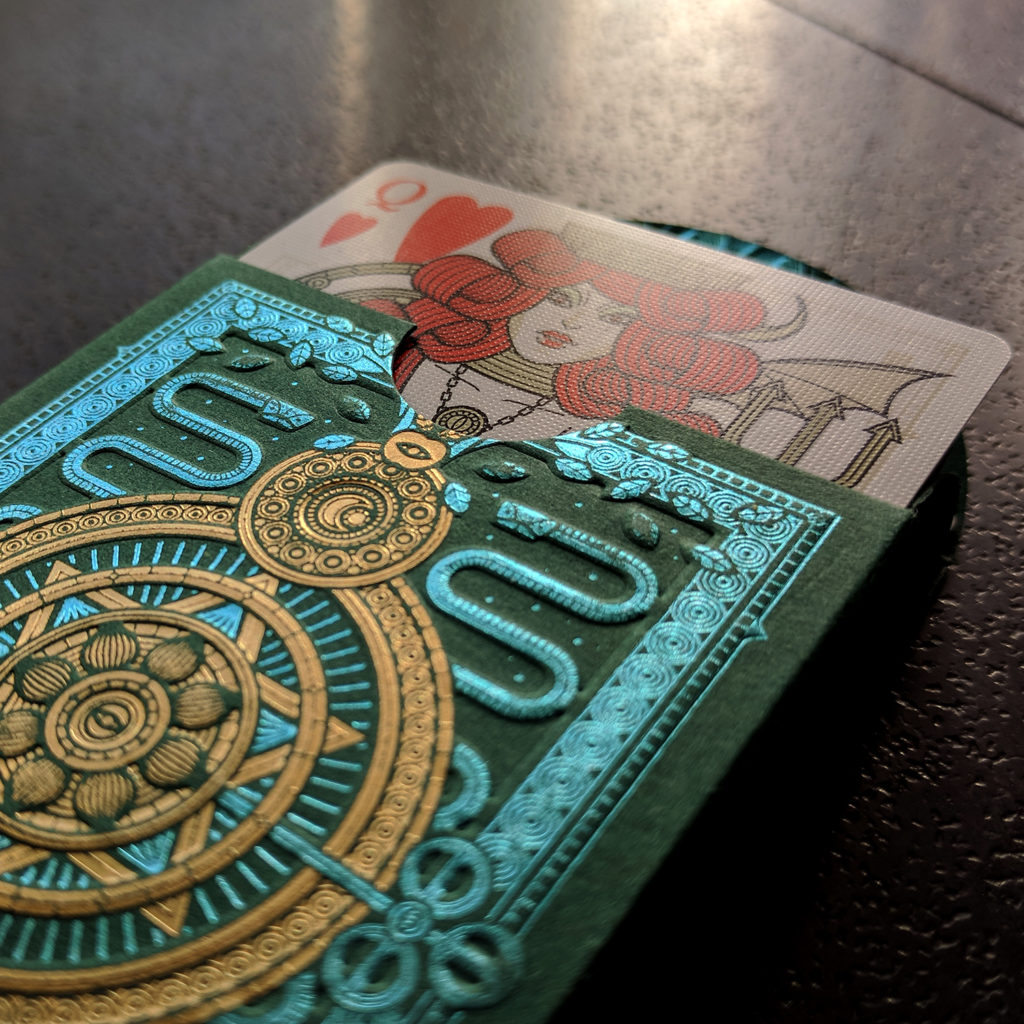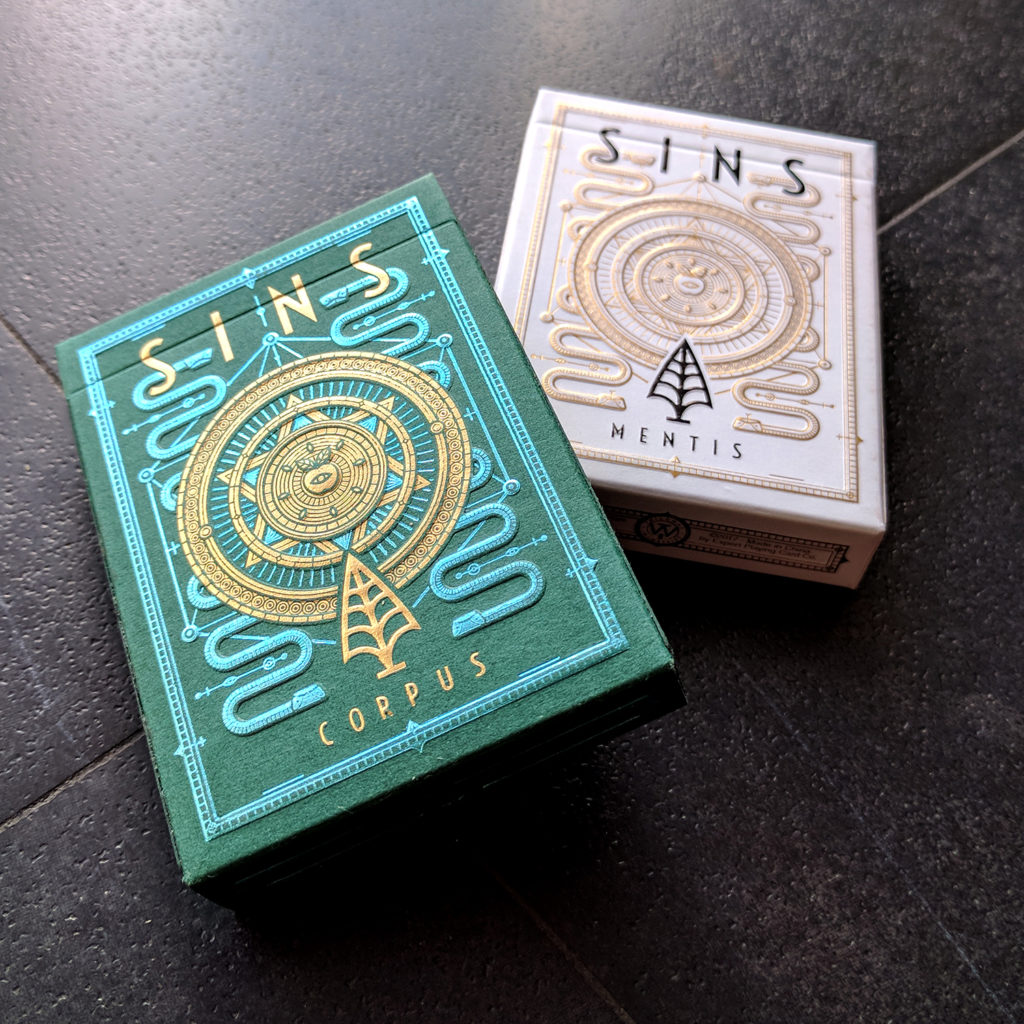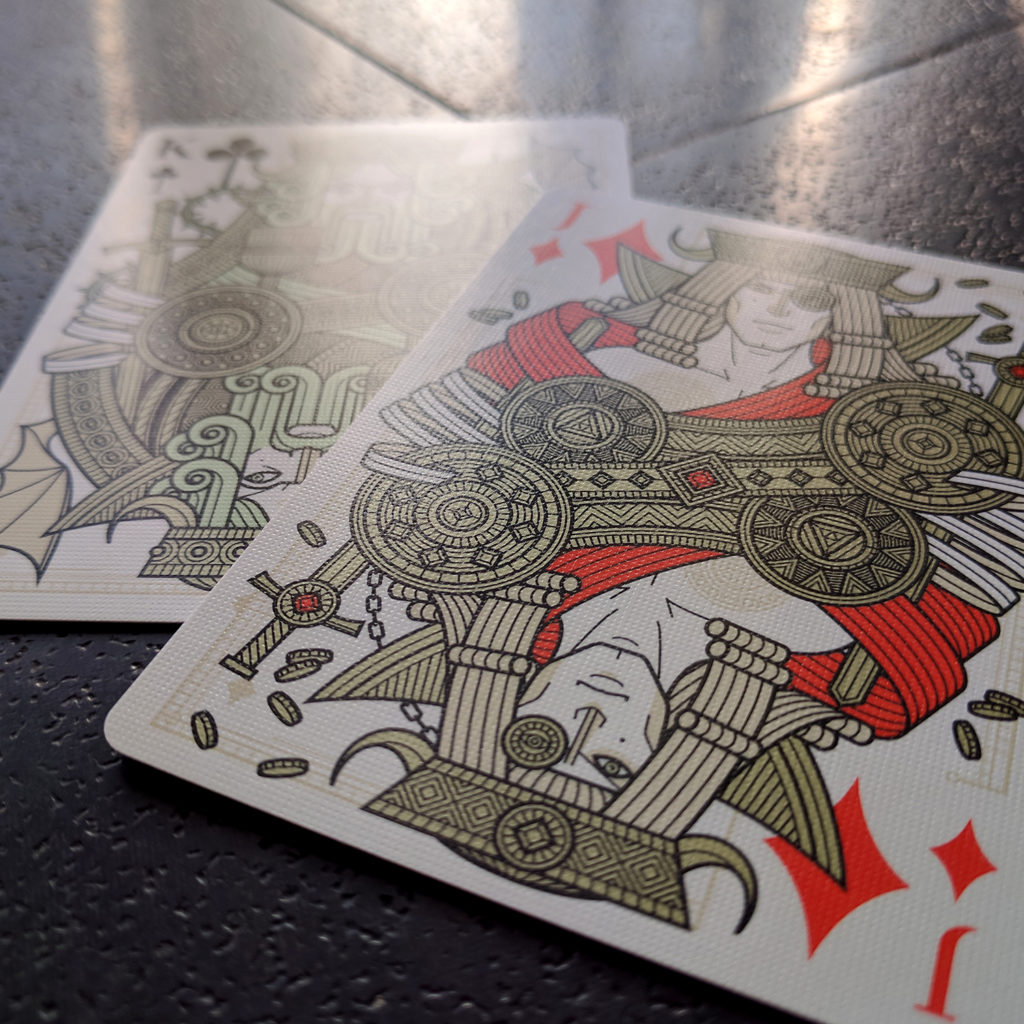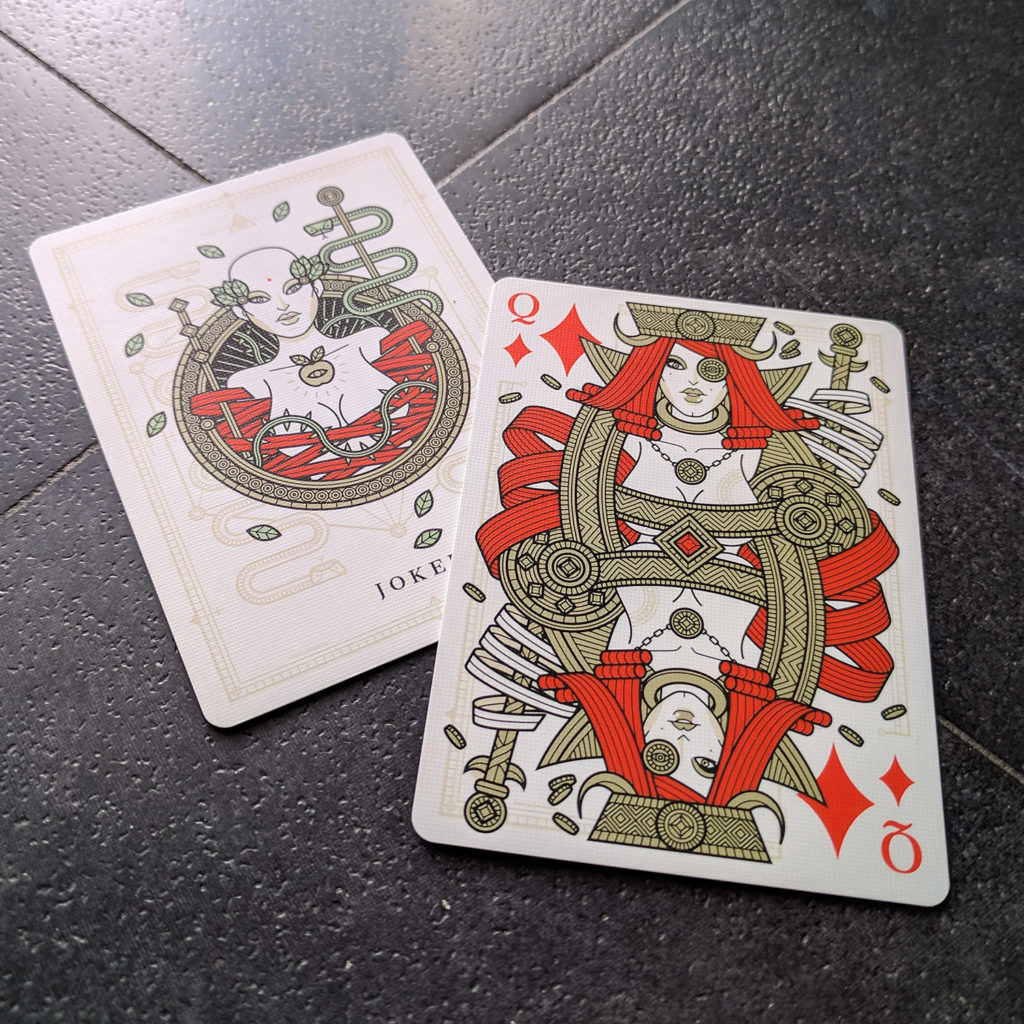 Inspired by the seven deadly SINS, the series is splitted in three decks: Corpus, Mentis and Anima. The first one includes the sins of the body: wrath, gluttony, sloth and lust. The second includes the sins of the mind: pride, greed, envy and lust (included in both decks). Anima include a combinations of all sins, with a striking red background.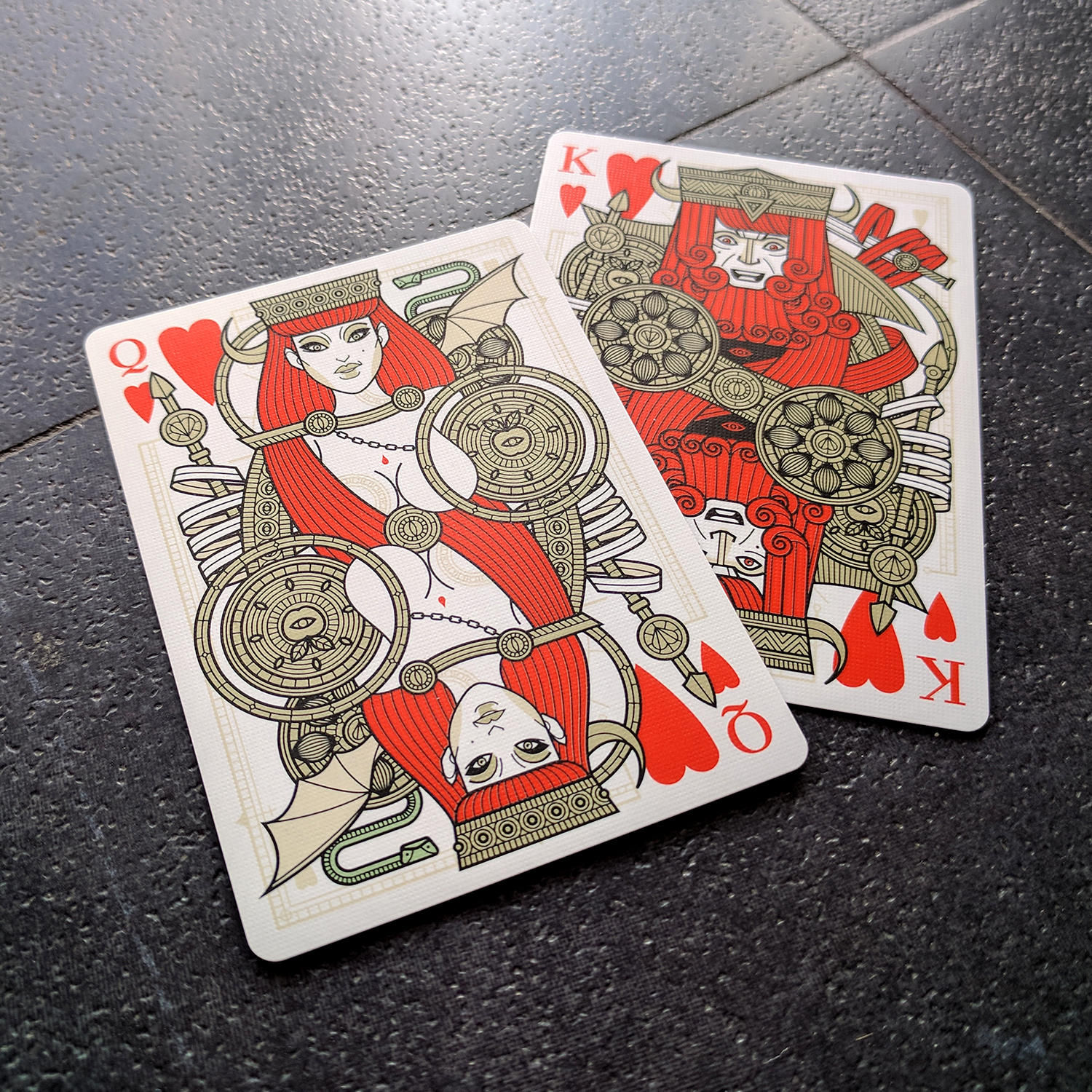 SINS Kickstarter was launched February 17, 2017 and it was one of my most big successes – it raised €54,273
Eva
SINS did well, and I had a sudden inspiration with a deck made only by women. The idea was to dedicate a deck to all the "first women" of the different cultures: Pandora, Lilith, Phyrrha and, of course, Eva.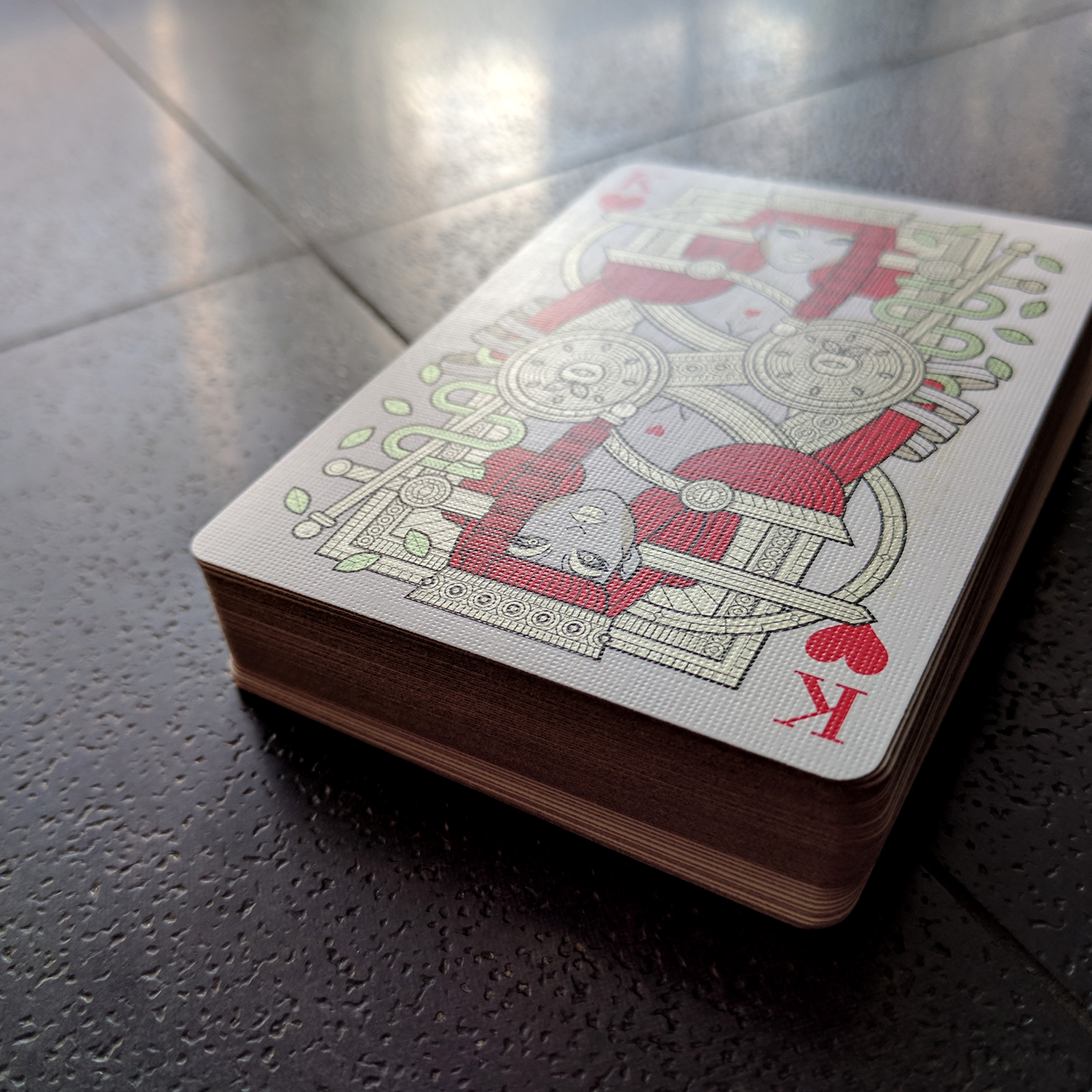 Eva was teased with this email.
Meanwhile, I was realizing that produce decks overseas was taking too much time, so I wanted to try USPCC for the first time and print in the USA.
Eva Kickstarter was launched on May 12, 2017 and it raised €32,905
Eva is one of my favourite decks I've did. The metallic inks are incredible, and the letterpressed tuckbox is very classy.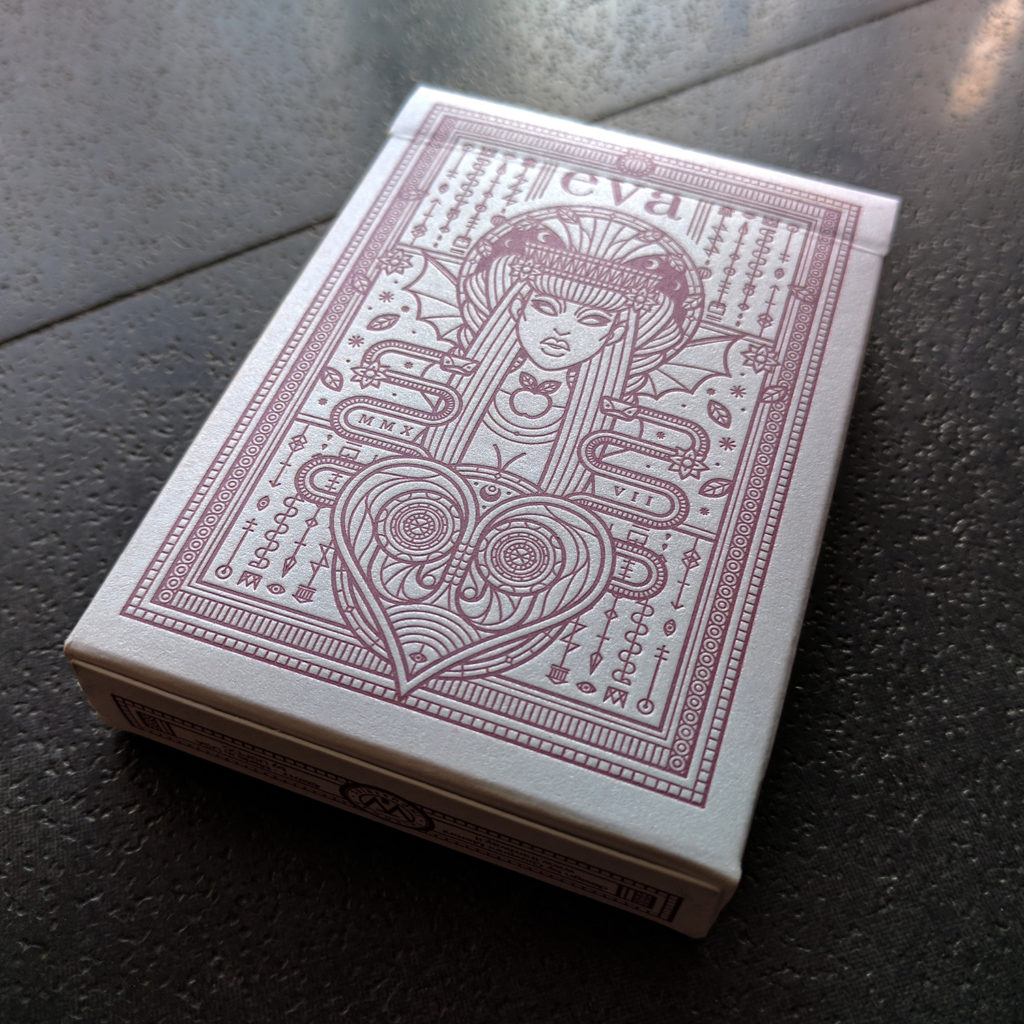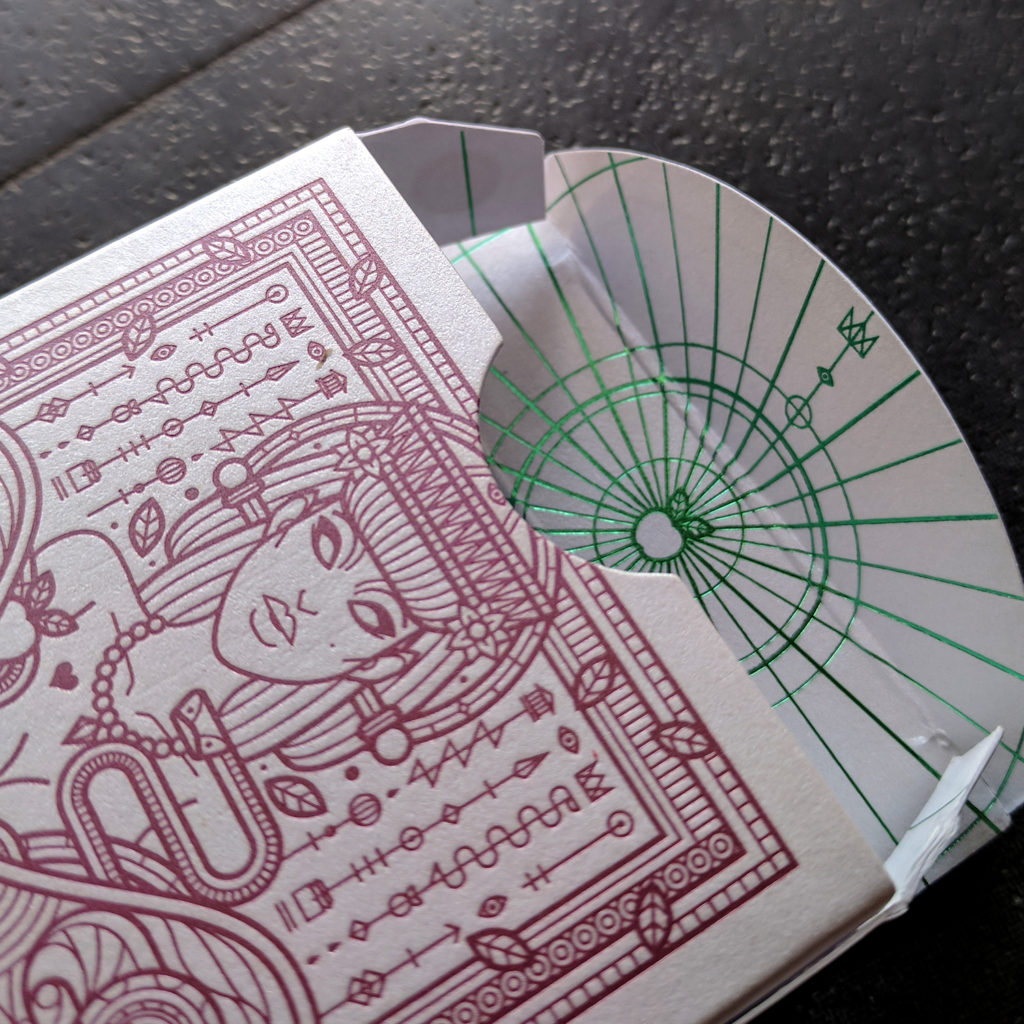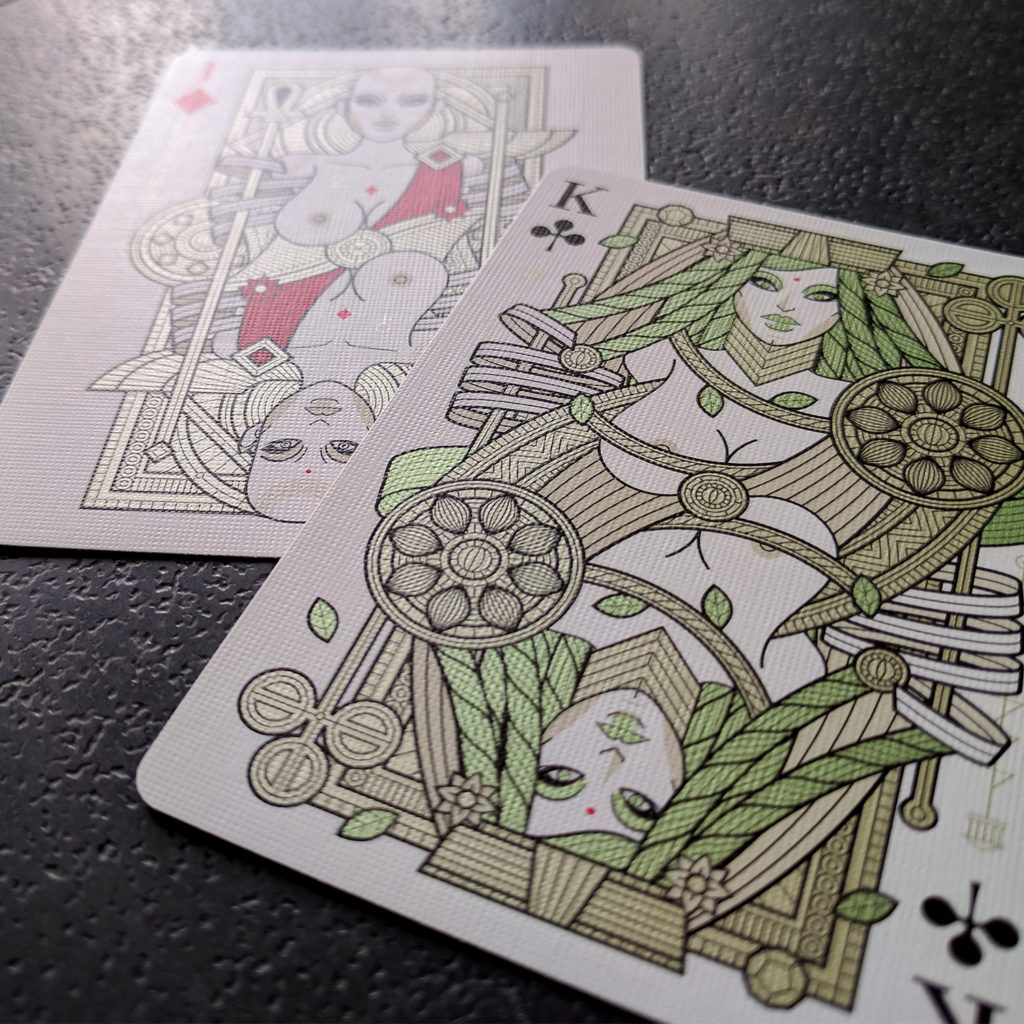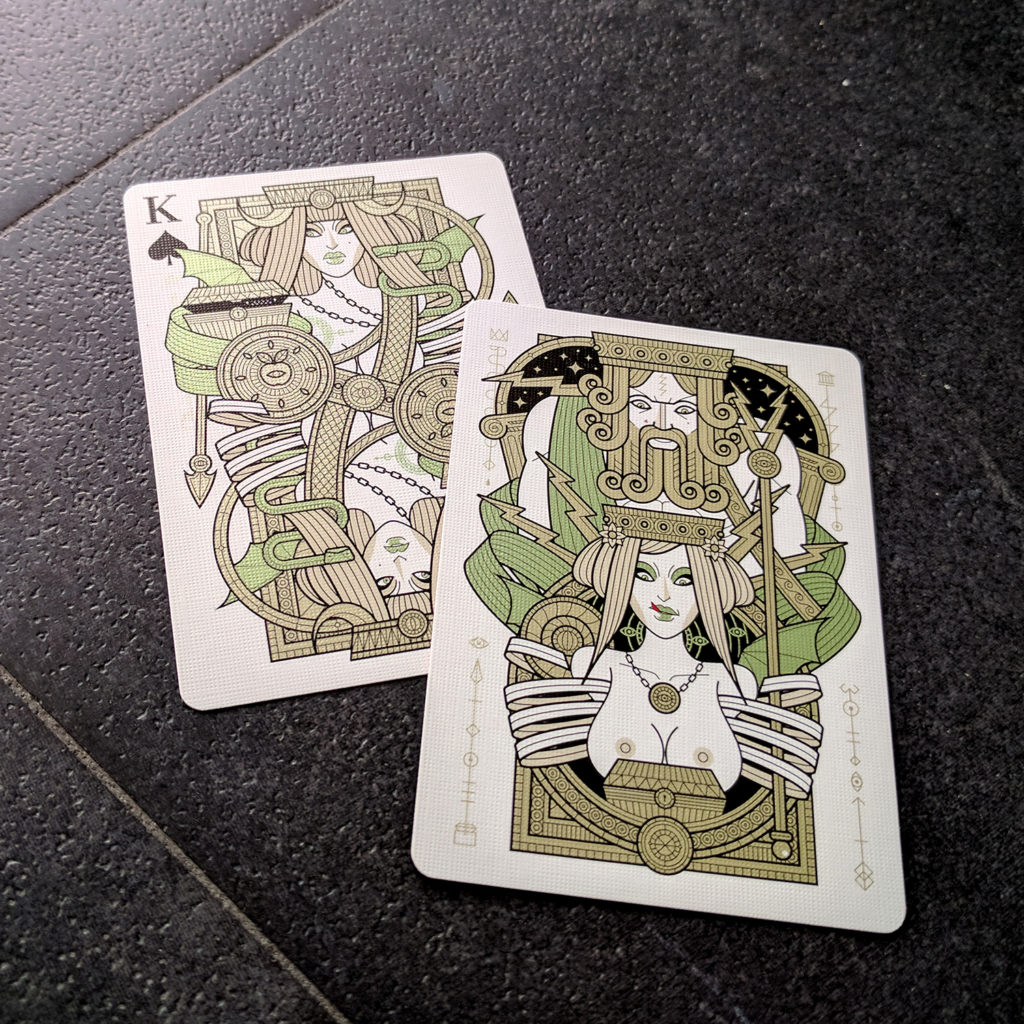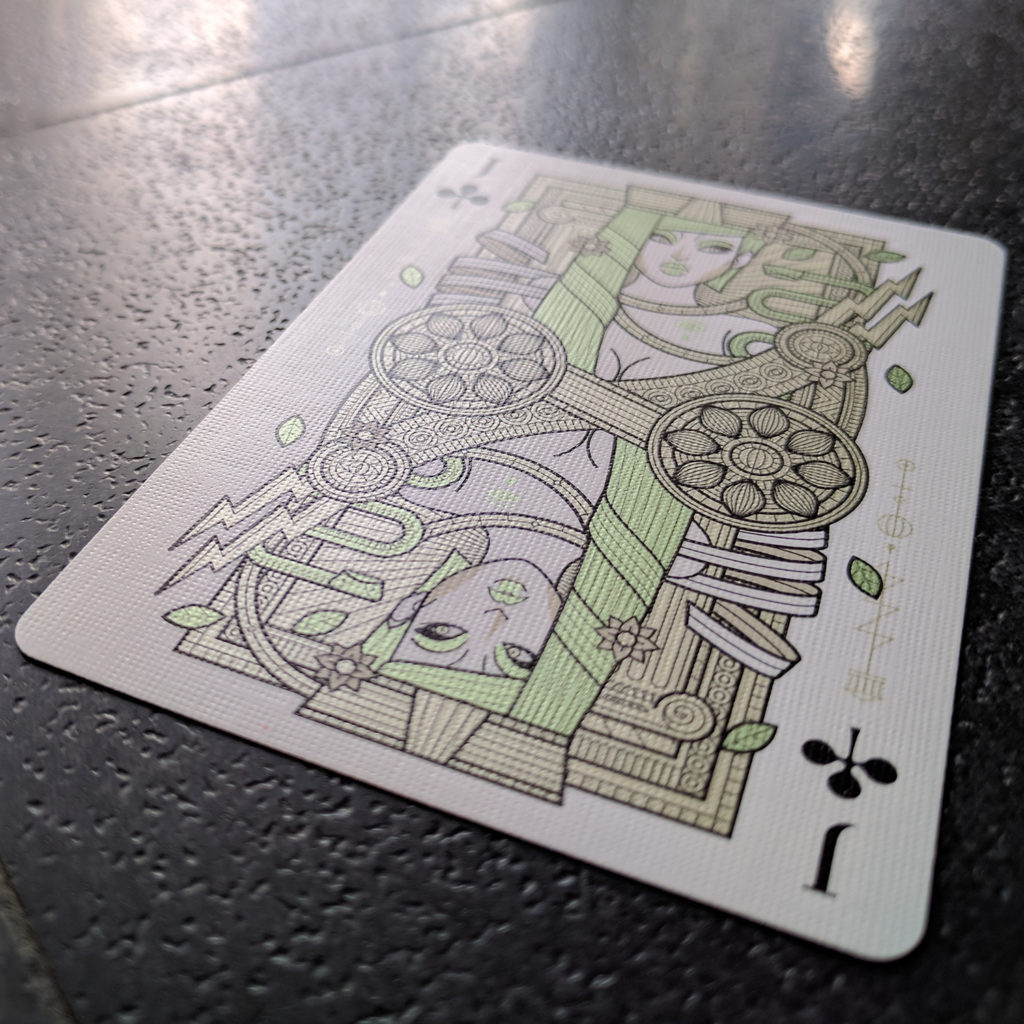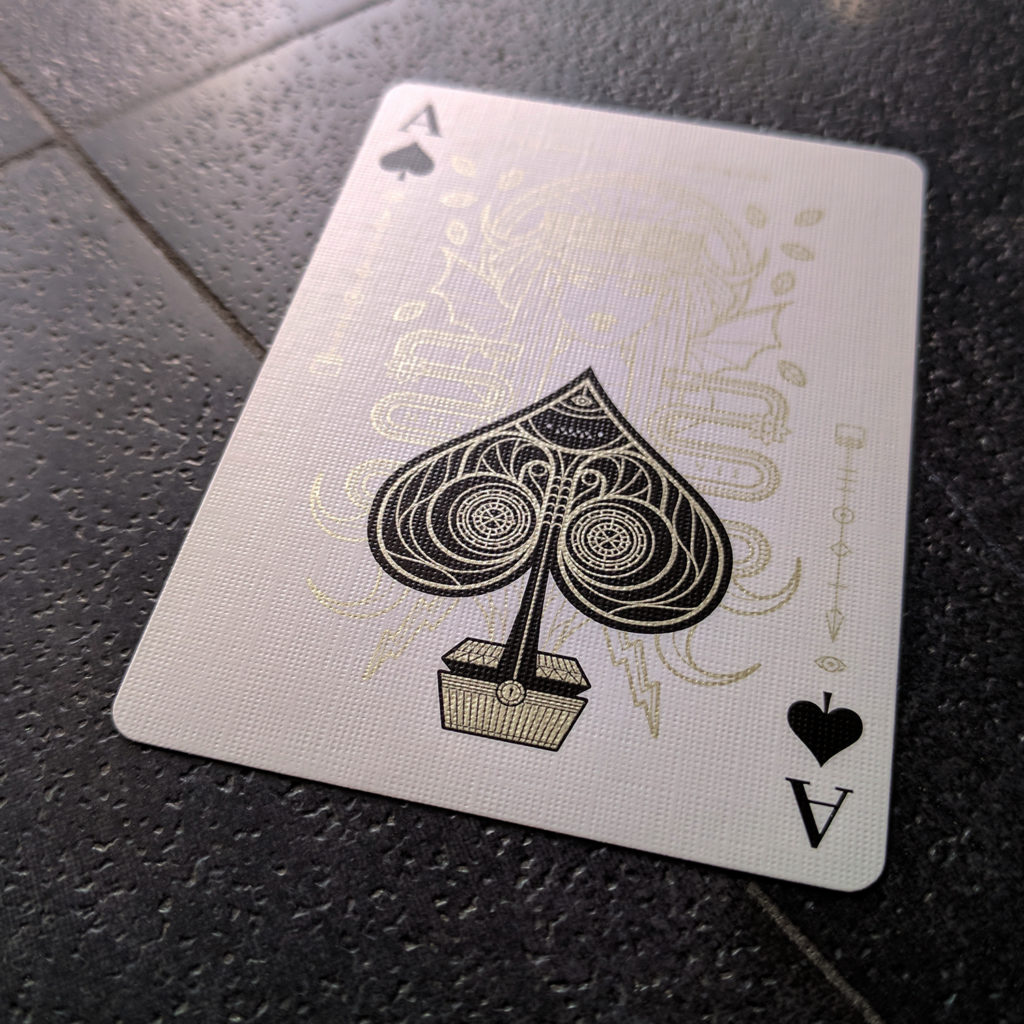 Lunatica
After a lot of serious and dark themes, I wanted to do something different and fun, cardistry-oriented. I've spent summer 2017 in developing a new sharp and funny style for an unnamed deck. It was supposed to be a "monsters" decks, but in the end I've changed the courts to be more human. Despite the funny style, the background story behind Lunatica is deep and complicated.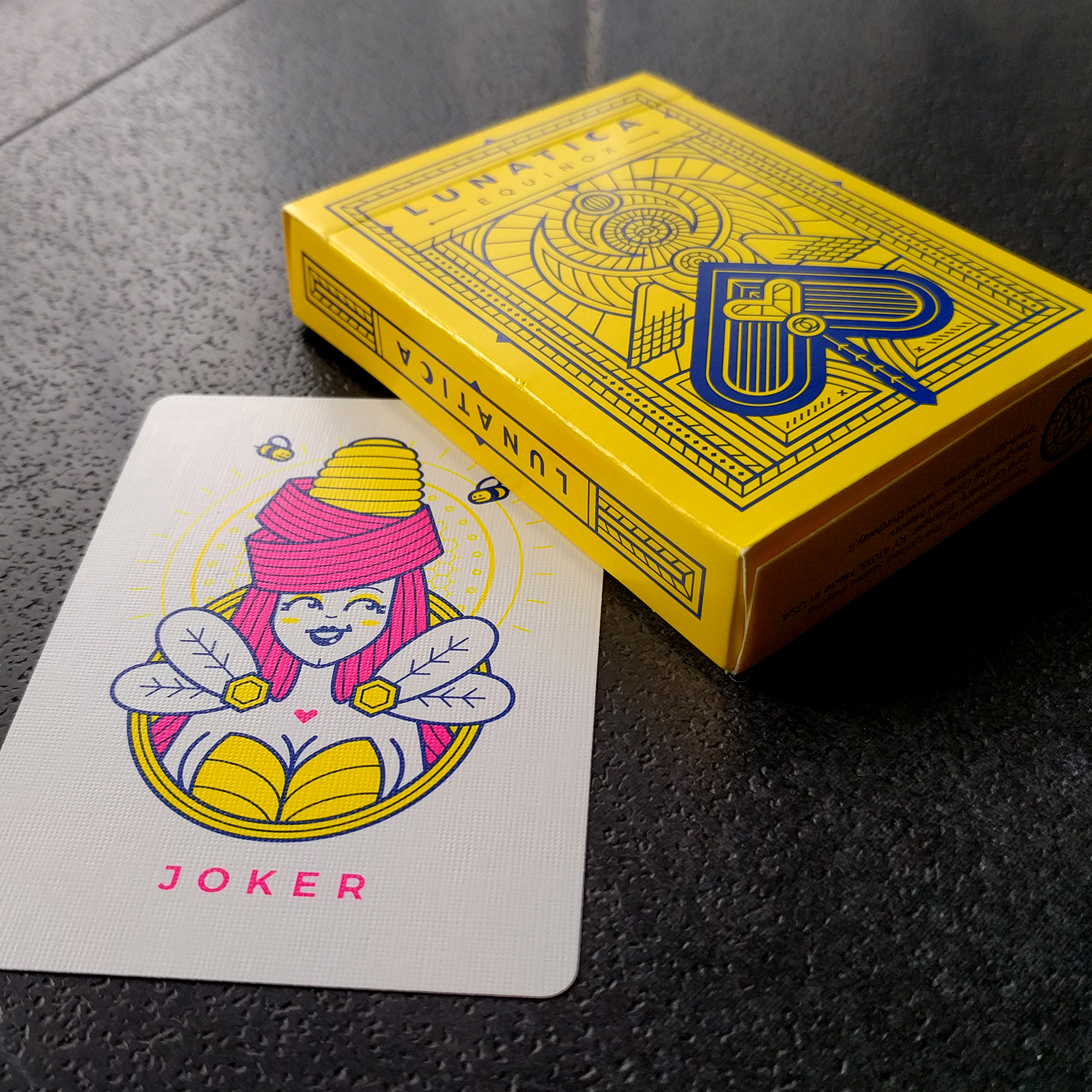 Here is the teaser mail I've shared for promote Lunatica.
For Lunatica I've decided to use almost only Neon Inks, and it glow under blacklight. Here is a video of the effect:
Lunatica was launched September 22, 2017 and it raised €41,332
Read more about Lunatica Lore >>
Eva the statue
I wanted to try something different than cards, and I've produced a statue inspired by my SINS and Eva series – designed by the talented artist Simone Rasetti.
This statue was printed in very few copies, in Italy. The Kickstarter was launched the 10th of November 2017 and it raised €3,492
Produce statues is not like decks, but I had fun with this one and learned a lot of things. I will do some other crazy experiments in future.
A real company!
Thirdway Industries grew a lot since I've won the DDDC. The 12th of December of 2017 I've officially inaugurate it as a real italian company.
Delirium Lost decks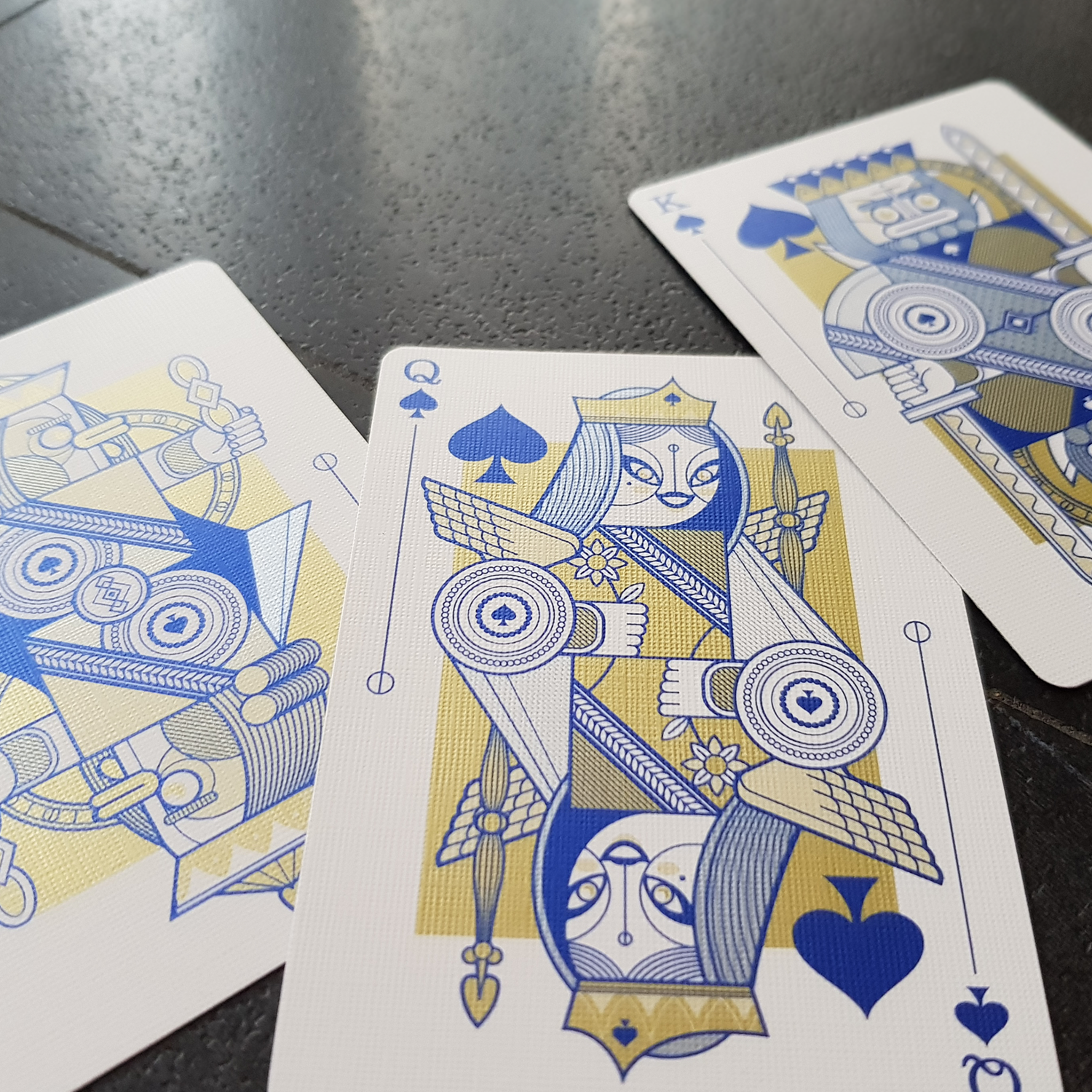 To inaugurate the "new" company, I've decided to fund the missing decks of my very first Kickstarter project, Delirium.
Here is the microsite I've launched for promote the series.
The stretch goal to unlock those wasn't reached in 2014, so I've redesigned and relaunced them in January 12, 2018. Delirium TLD raised €28,565
Odissea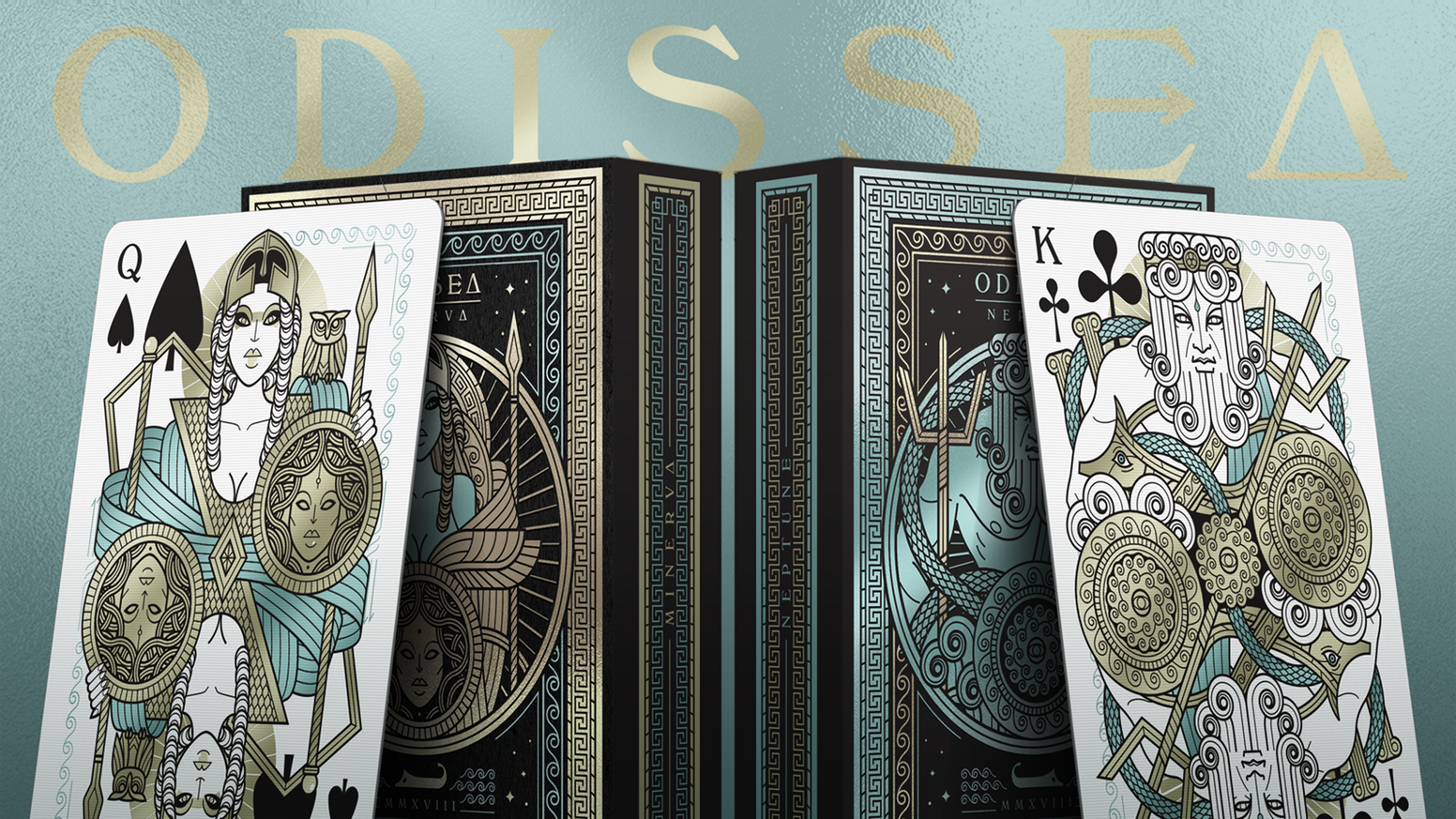 As said before, I have a true love for Greek Mythology – and I wanted to do a series on the one of the most important myth: Homer's Odissey. Ulysses is one of my favourite heroes, and I was waiting to have enough experience to make an entire project on him. This was the mail I've shared for promote the project.
On May 17, 2018, I've launched Odissea – It raised €50,394
Betrayers
In August 2018 I've shared a preview of my last project, Betrayers. This was the mail I've shared for promote it.
This page is updated at August 2018.
—
Milestones
June 2013 – I've started to design Evil Deck
March 2014 – I partecipated to DDDC
1 July 2014 – Evil Deck won the DDDC
1st November of 2014 – Delirium Kickstarter
2th of June of 2015 – Omnia: The first Kickstarter
6th January of 2016 – Omnia: Golden Age Kickstarter
10th June, 2016 – Dedalo Kickstarter
12th October, 2016 – Pantheon Kickstarter
17th February, 2017 – SINS Kickstarter
12th May, 2017 – Eva Kickstarter
22th September, 2017 – Lunatica Kickstarter
10th of November 2017 – Eva The Statue Kickstarter
12th December 2017 – Thirdway Industries LTD
12th January, 2018 – Delirium The Lost Decks Kickstarter
17th May, 2018 – Odissea Kickstarter