Warehouse is operational and the website is now automatic. This means that all the orders you made on TWI website will be processed after few business days from Gambler's Warehouse, my fulfillment center.
Covid-19 situation update
Thirdway Website is fully operational and shipping worldwide as ususal.
USPS temporarily suspended services for certain countries – here is the list. If you live in one of those countries, con can still order, but I'll have to put your order on hold until the services will reopen.
For any doubt, write me at giovanni@thirdway.it (I am always operative, granting my 24-hours replies as usual).
Support
Need support? Contact me for anything: giovanni@thirdway.it
You can also find me on Facebook and Instagram and send me a private message.
I usually reply within 24-hours.
"Label created, not yet in system?"
If you see the message above… don't worry. The package is in transit, it's just the tracking it's not working properly. Use this tool, it should work: International packages tracking tool >
Tracking tool is working on International packages only. For the domestic ones, use the USPS tracking tool >
Shipping fees and rules
From 12/26/2019, the shipping rules on www.thirdwayindustries.com will change. 
Those new rules will take effect immediately, but they can change in the immediate future.
😀 Automatic free shipping
Free shipping is automatic (without a coupon code) above $50 for United States and above $100 for the "Zone 1" (list below). World Countries don't have automatic free shipping.
⚠️ Free shipping coupon codes for "World Countries" will work only if the total is above $200
I needed to make shipping a little more sustainable on my side, so I needed to put a limit on "World" free shipping. From now on, coupon codes on "world" addresses will work only if the amount is over $200. USA and Zone1 Coupon codes are not affected.
Here is a quick recap:
🌎 United States
Free Shipping with a coupon code, or automatic over $50!

Shipping cost is $3 + $1 per deck + $10 per uncuts/bricks
🌍 Zone 1
Free Shipping with a coupon code, or automatic over $99!

Normal Shipping cost is $6 + $2 per deck + $15 per uncuts/bricks
🌏 World Countries
Free Shipping is available

only with a coupon code

,

over $200

Normal Shipping cost is $12 + $4 per deck + $20 per uncuts/bricks
Zone 1
The "Zone 1" is the list of the country that have good rates from United States and usually are reachable by their e-packets. Those countries are relatively cheap to ship to and usually the trackings are more reliable. I can add or remove countries from this list in future.
Israel, Singapore, Belgium, Croatia, Denmark, Estonia, Finland, France, Germany, Gibraltar, Hungary. Ireland, Italy, Latvia, Lithuania, Luxembourg, Malta, Netherlands, Portugal, Spain, Sweden, Switzerland, United Kingdom, Canada, Australia, New Zealand.
You think that your country was omitted by error? Write me at giovanni@thirdway.it
Shipping process
Here is how the shipping process of Thirdway Industries works:
Within few days you've placed an order, I'll process it putting it into a spreadsheet. When this happens, you'll receive a notification of "complete order".
The "Order Complete" notification means only I've processed the order, NOT that the order is actually shipped.
A couple of times in a week I send that spreadsheet with the orders to my fulfillment center, Gambler's Warehouse.
They usually ship all the orders included into the spreadsheet within 4 business days.
If you are an US customer, you should recieve your package in around 4 days, and your package is automatically tracked.
If you are an international customer, please allow at least a couple of weeks for recieve your order.
Sometimes your country's custom may delay your package for an extra week, so don't worry if it's taking a little more than expected.
International tracking is very expensive, so I use it only if you have expensive stuff in your package.
Hope this is useful to estimate how long it would take recieve a package (usually 1-2 weeks domestic, 2-3 weeks international). Contact me if you need special shipping solutions (faster or tracked).
My shipping process may be slower than usual if I'm shipping a Kickstarter and it may be influenced by the US holidays. If you need specific informations on delivery, please send me an e-mail.
Thirdway Industries is not a big company – it's just one man with the support of a professional fulfillment center: be patient if those shipping times looks a little longer than a bigger ecommerce store.
Payments on Thirdway Industries Store
This store's payments are based on PayPal – however, you don't need a PayPal account to place an order. Since some customers had issues in find the way to do pay through Credit Card, I've made this simple tutorial to assist.
First step > add anything you wish to buy to your cart.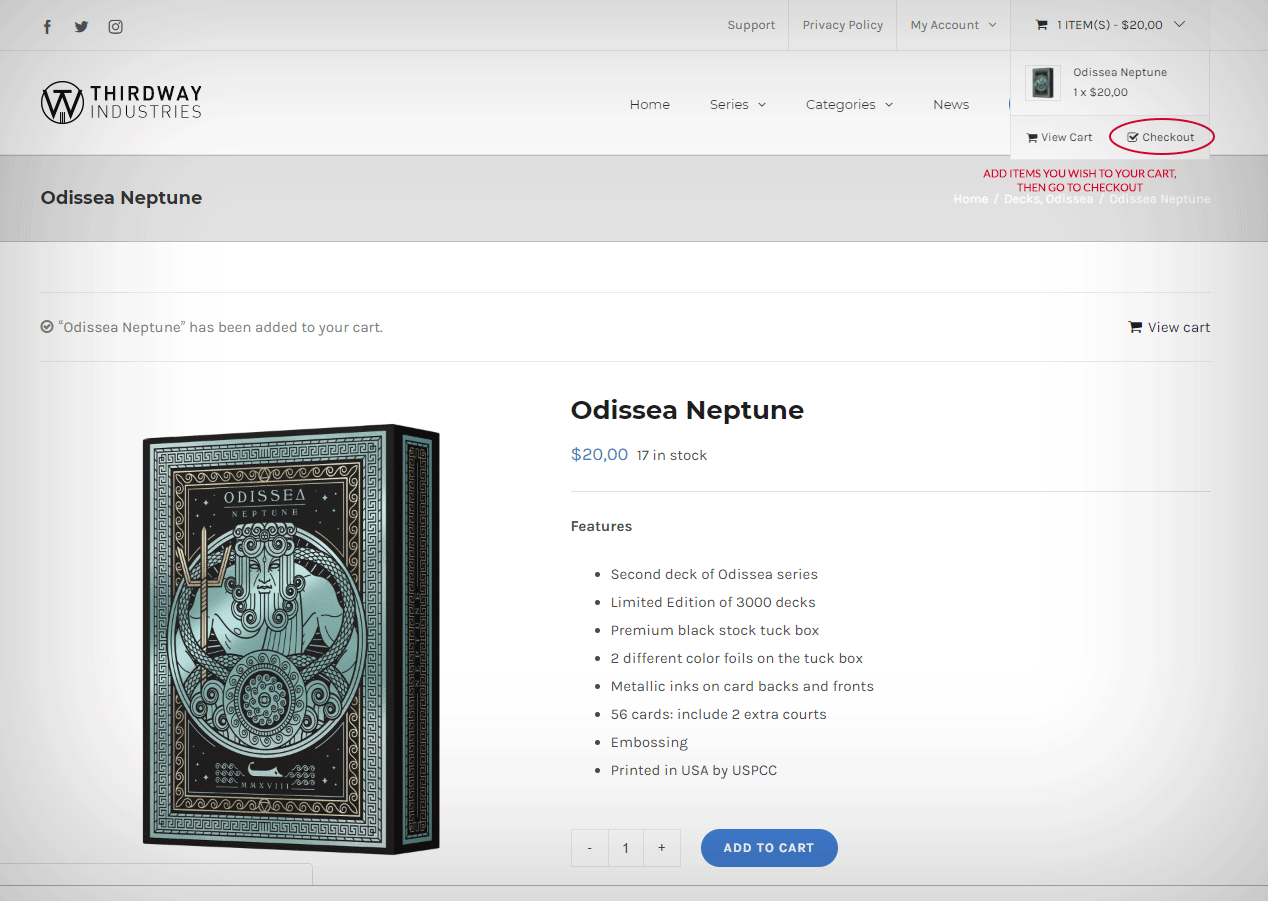 Second step > Check shipping cost, enter a coupon code if you have it and then Proceed to Checkout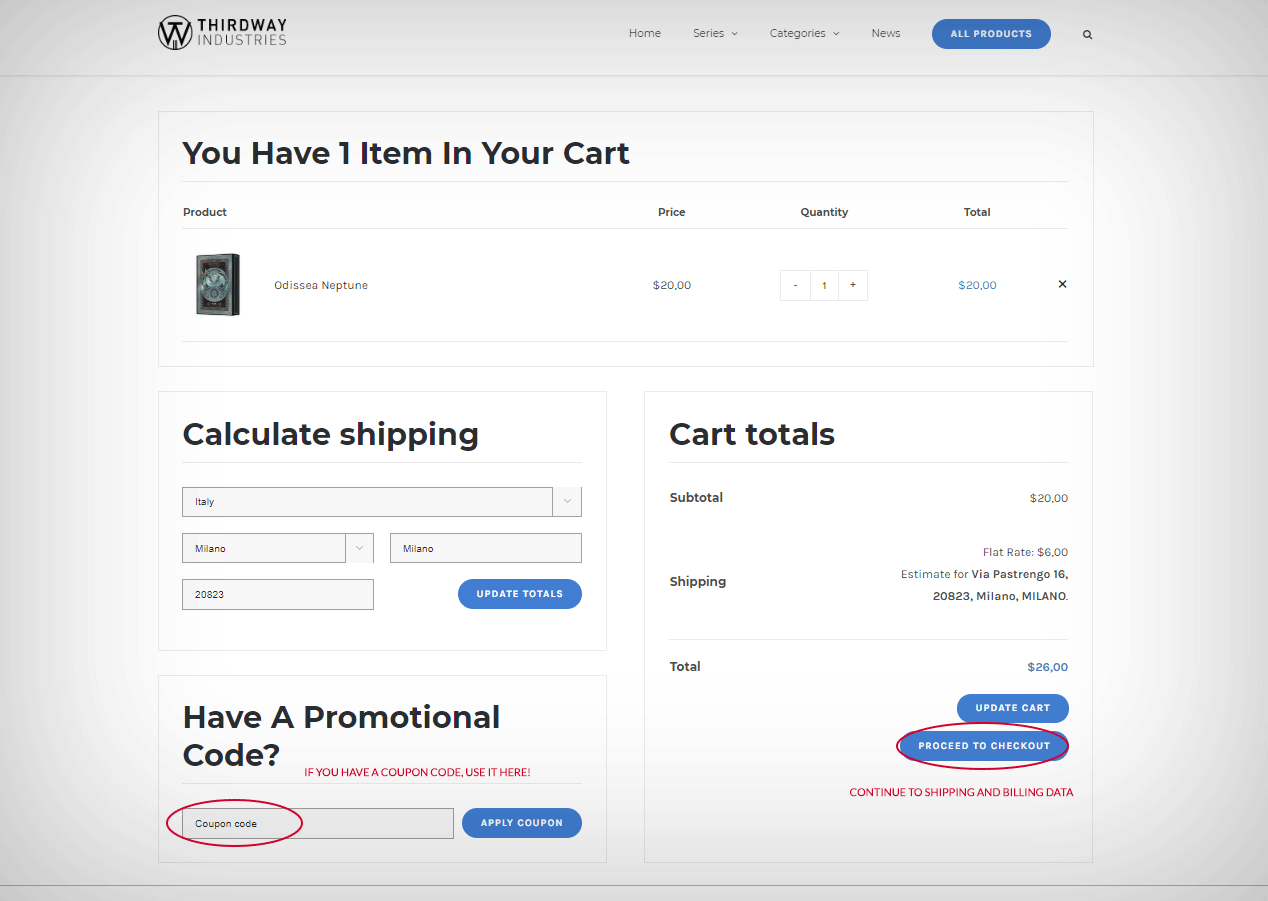 Third step > Enter all your shipping and billing data (above, not in the screenshot below), if you want subscribe the newsletter, then proceed to Paypal – You don't need an account, you can pay with a Credit Card!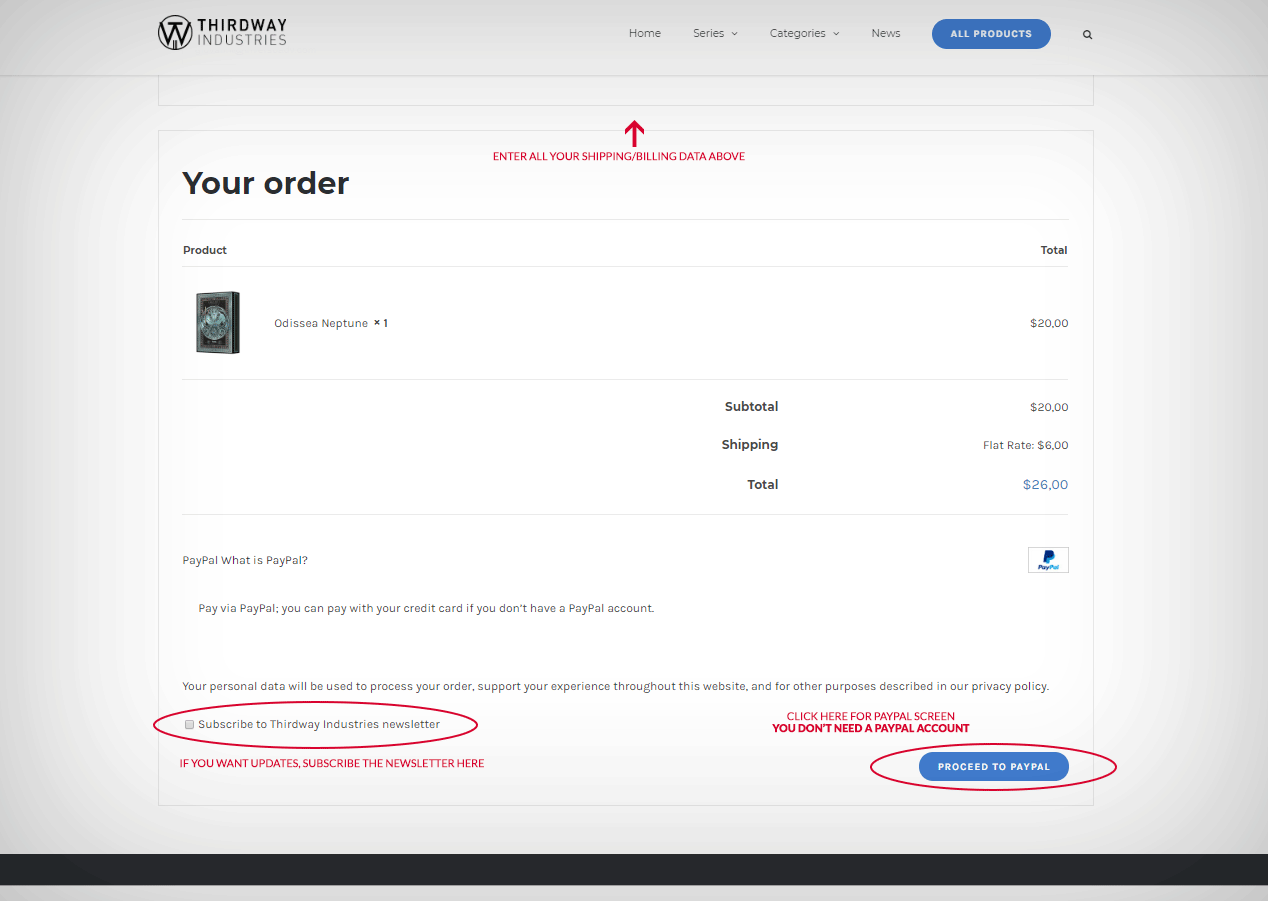 Fourth step > If you have a PayPal account, enter the data in the form above – otherwise, click the grey button below to use a credit card.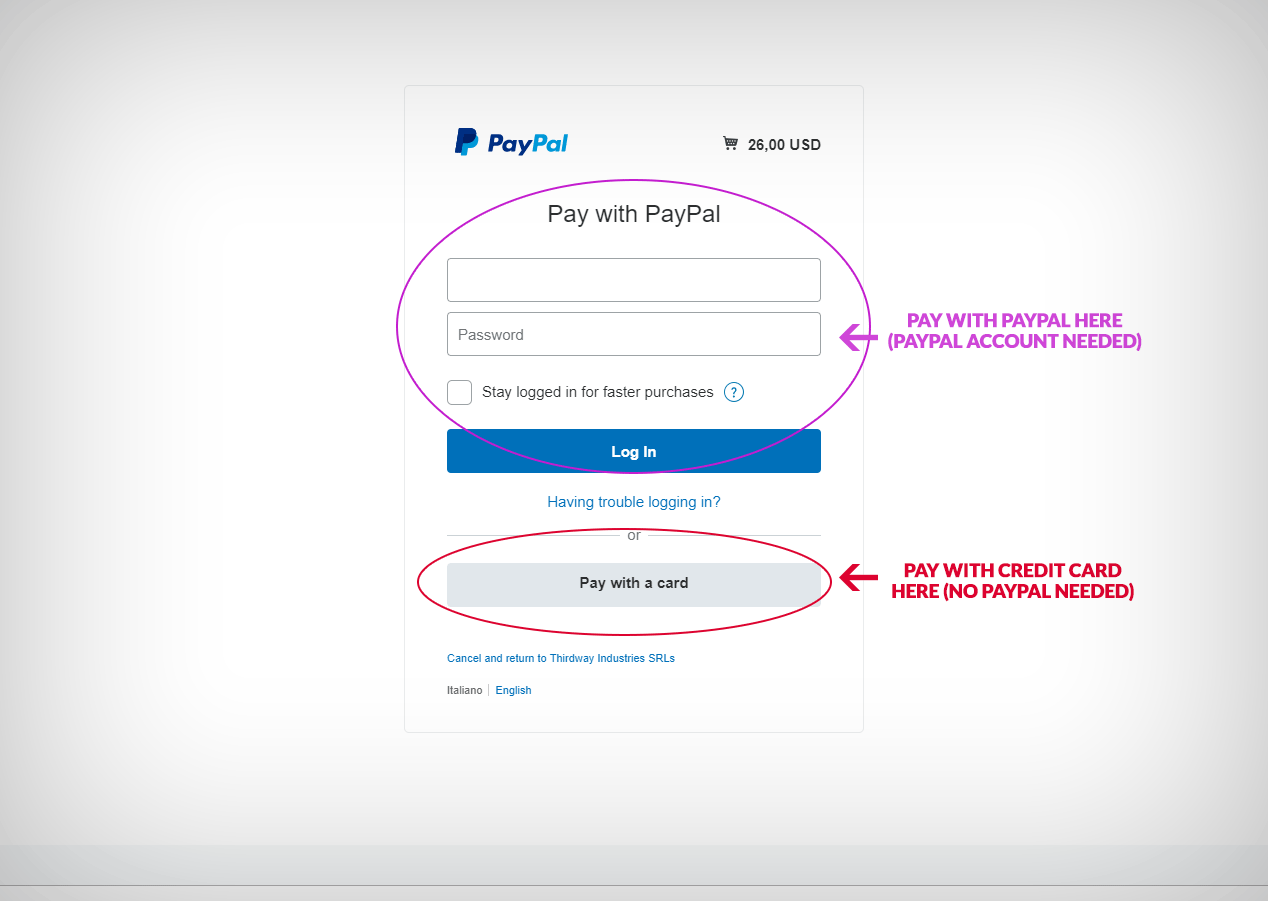 Fifth step > Complete the checkout and wait for your new Thirdway Industries decks 🙂
If you have any further question, just contact me giovanni-at-thirdway.it (-at- is @ – doing this for spambots)
List of countries where we can ship end to end tracking:
AUSTRALIA, AUSTRIA, BELARUS, BELGIUM, BRAZIL, BULGARIA, CANADA, COLOMBIA, CROATIA, CZECH REPUBLIC, DENMARK, ESTONIA, FINLAND, FRANCE, GEORGIA, GERMANY, GIBRALTAR (UNITED KINGDOM), GREECE, HONG KONG, HUNGARY, ICELAND, INDIA, INDONESIA, IRELAND, ISRAEL, ITALY, JAPAN, KOREA (SOUTH), LEBANON, LITHUANIA, LUXEMBOURG, MALAYSIA, MALTA, MEXICO, NETHERLANDS, NEW ZEALAND, NORWAY, POLAND, PORTUGAL, ROMANIA, RUSSIA, SAUDI ARABIA, SERBIA, SINGAPORE, SLOVAKIA, SLOVENIA, SPAIN, SWEDEN, SWITZERLAND, TAIWAN, THAILAND, TURKEY, UNITED ARAB EMIRATES, UNITED KINGDOM, VIETNAM.