SINS Reborn is the remake of the original SINS series, printed in 2017.
SINS Reborn decks were available in two different ways – via Patreon Subscription and via Kickstarter.
Now the decks are currently in production and not available for preorder.
Sins Reborn Decks
This remake features a total of seven decks. There are 3 Players editions: Red Corpus, Blue Mentis, Black Anima and 3 Limited editions Blood Corpus, Twisted Mentis and Lost Anima. There is also a special gilded "Excellence Edition", Infernal Anima.

Player Editions
The player editions are: Red Corpus (retail $17 – 2500 made) Blue Mentis (retail $17 – 2500 made) and Black Anima (retail $25 – 2000 made). These decks have metallic inks on the box and are printed by USPCC.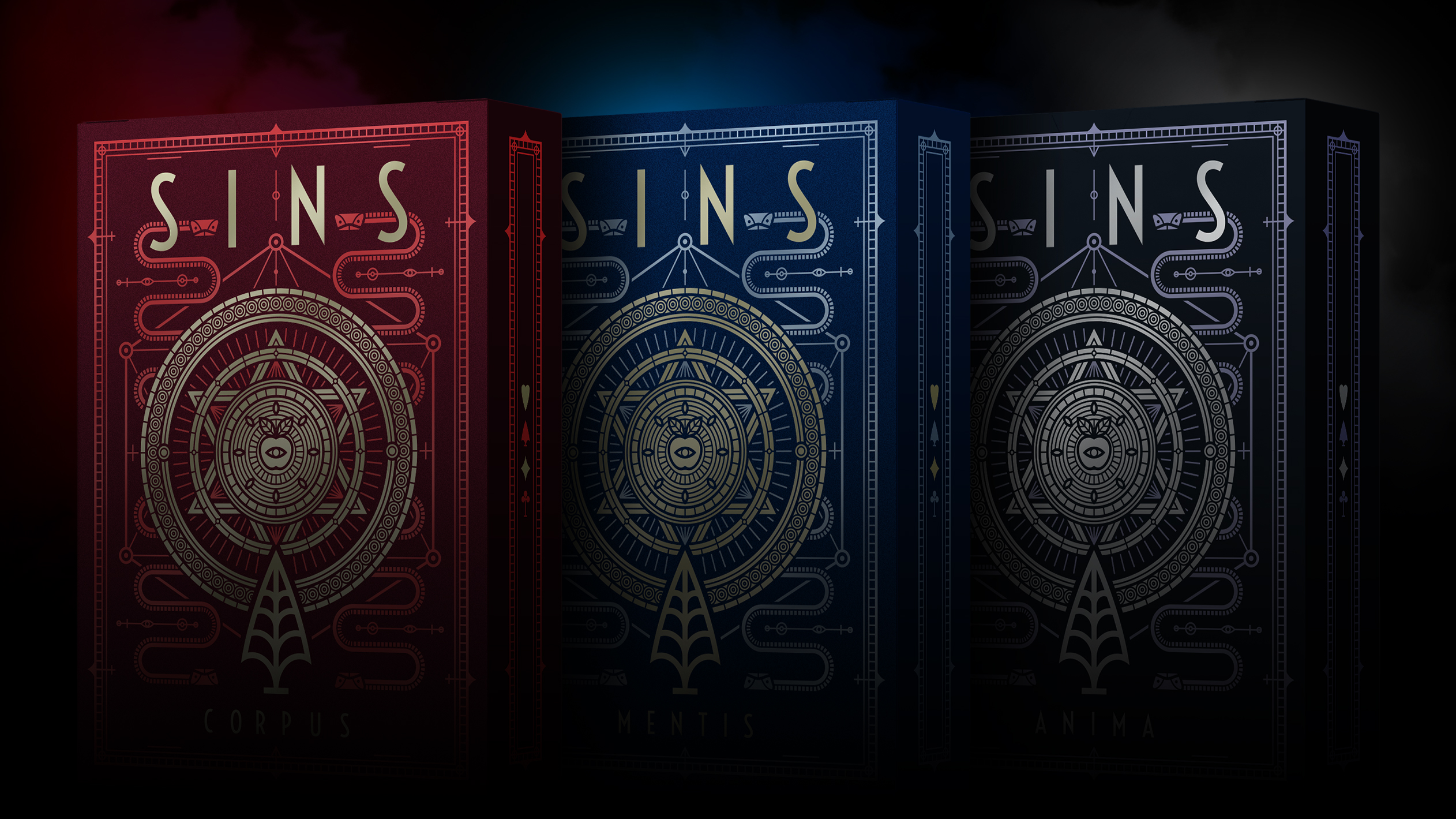 Limited Editions
The limited editions are: Blood Corpus (retail $29 – 1500 made) Twisted Mentis (retail $29 – 1500 made) and Lost Anima (retail $55 – 1200 made). Those decks are sealed, numbered and with a beautiful custom box. I will use experimental papers, embossing and 2 layers of foil.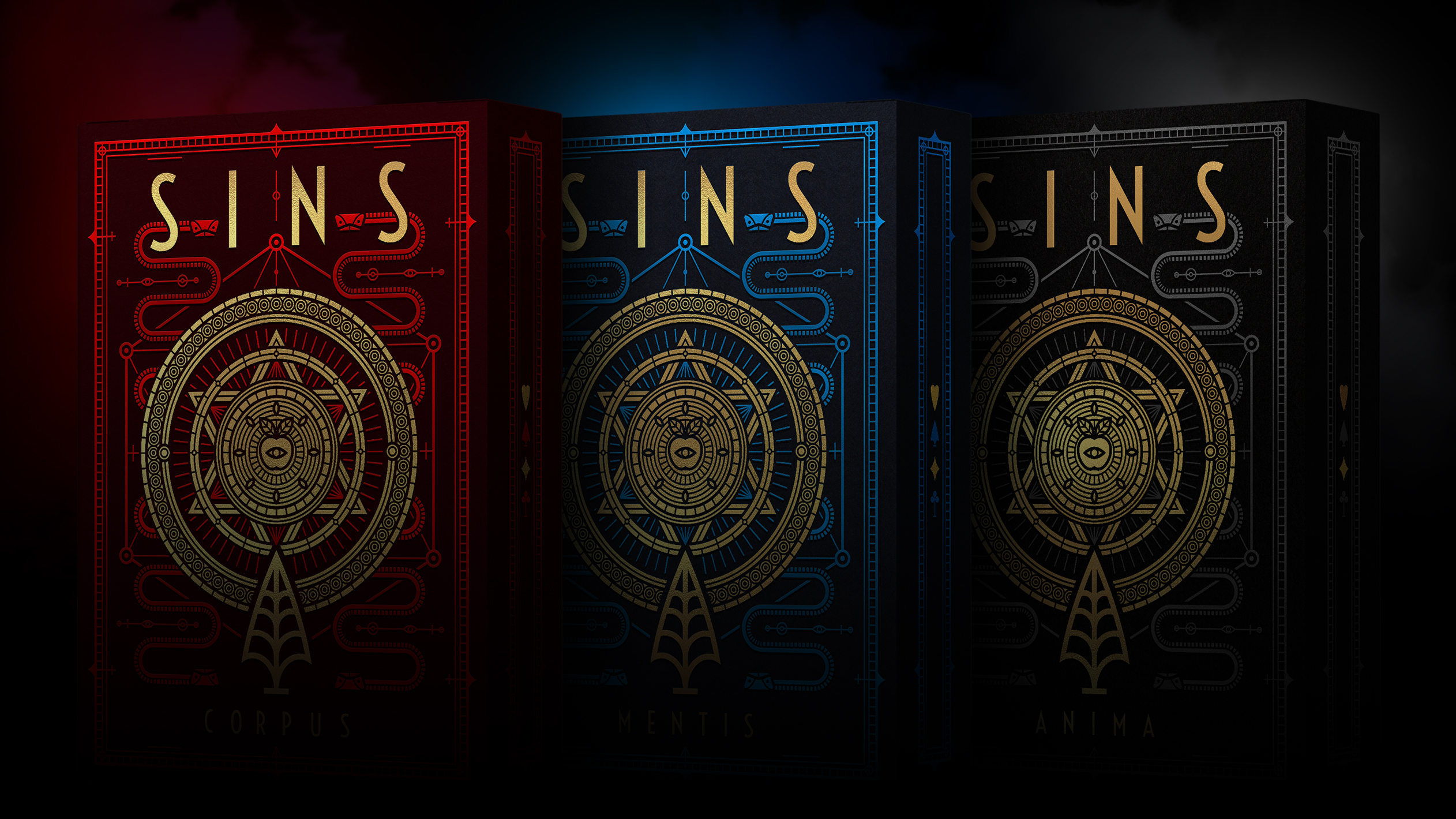 Infernal Anima Gilded
The Infernal Gilded Edition is the White (Violet?) Whale of the project, with a crazy violet gilding and a super tuckbox. I am planning to produce from 500 to 800. Retail price will be around $100.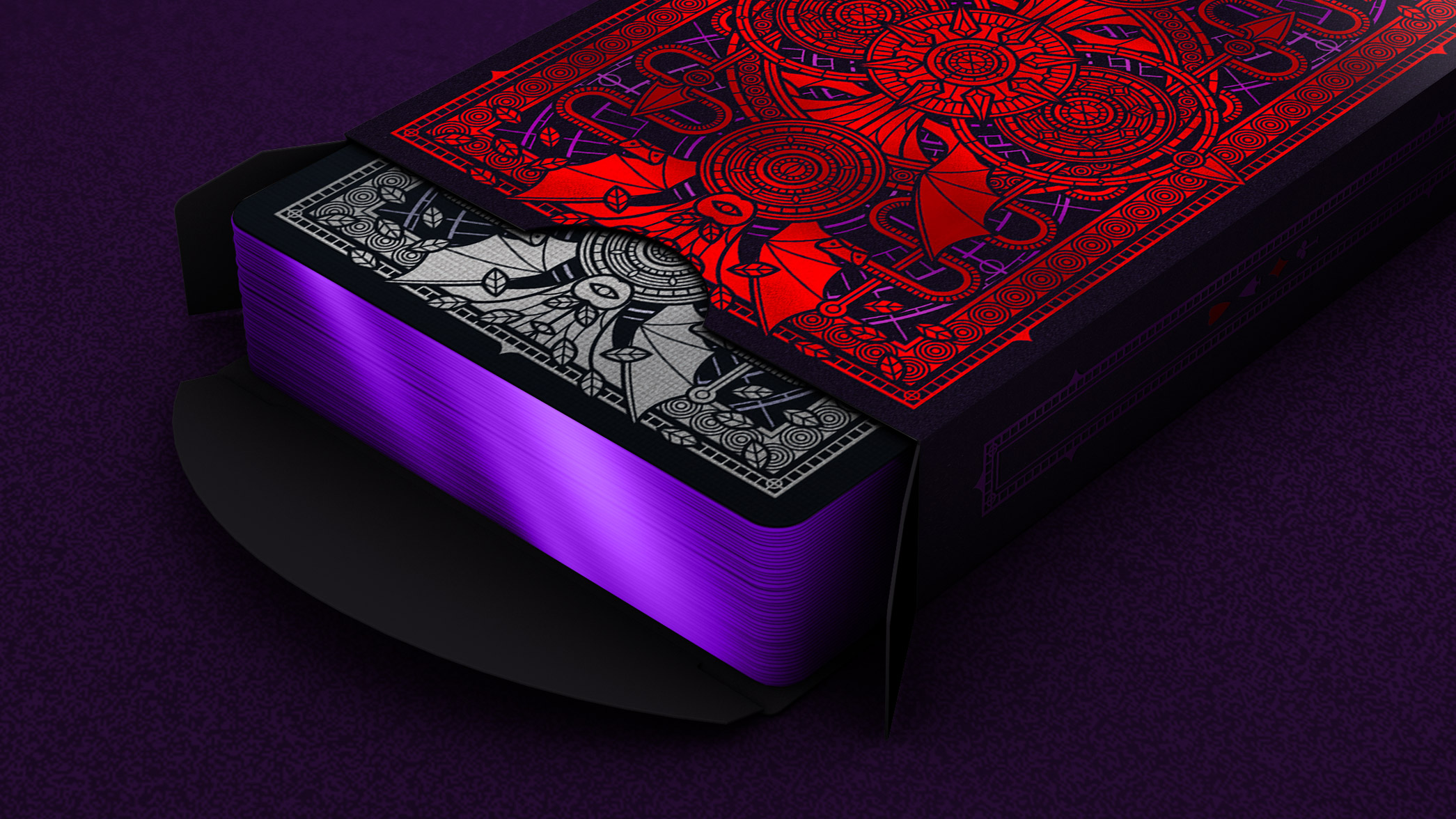 How to preorder SINS Reborn decks?
You can join the monthly (or annual) subscription on Patreon or back the upcoming project on Kickstarter.
Both ways to preorder SINS Reborn are unavailable – wait the retail release to purchase the decks, when they will be ready!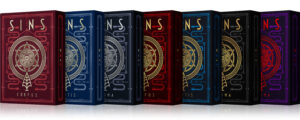 Cost for all 7 decks $145
($30/Month for 3 months + $55 for Infernal Anima Ex )
The "Sword of the Conqueror" ($30/Month) reward for Oct, Nov and Dec 2020 are Red Corpus, Blood Corpus, Blue Mentis, Twisted Mentis, Black Anima and Lost Anima. Patrons can add +1 Infernal Anima for $55 shipping included (only 1 per Patron).
🔥 Infernal Anima Ex for FREE for Yearly Patrons 🔥
If you join/upgrade your Patreon membership to Annual in 2020 (12 months charged in advance) you will get Infernal Anima for free AND a 10% discount on the whole. An annual "Sword of the Conqueror" Costs $324 and Include all 7 SINS decks and a lot of months of 2021 Patreon.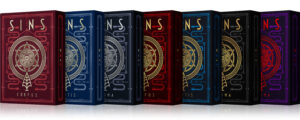 Cost for all 7 decks $175 (€ 149)
(Shipping included only for USA)
If you don't want join Patreon Subscription, you can back all the seven decks on Kickstarter:
The players+limited editions will cost €99 ($116)
All the 7 decks will cost €149 ($175).
If you're a real Sinner, you'll be able to pledge for 14 decks (2 each) or even 21 (3 each!).
On Kickstarter, shipping will be included only for United States backers.
Not familiar with Patreon?
Sword of the Conqueror is the phisycal reward of TWI Patreon, that grants a value of $50 USD per month, shipped every 3 months. Sword of the Conquerors tier cost $30/month. Shipping is included for USA, EU, CA, NZ, AU, UK, CH. Others should add +10 USD/month. Sword of the Conquerors include several other perks – read the FAQs for more details.
SINS Reborn decks, in detail
Want more informations on the decks? Check the product pages below.
Frequently Asked Questions
Which option is better?
Patreon is cheaper and offers a lot of valuable perks, especially if you pledge for a yearly account.
Kickstarter is the best choice if you don't want bonds and you're interested in get multiple copies of each deck.
How many slots are available?
Both Patreon and Kickstarter slot will be limited, so I suggest to join Patreon as soon as possible and/or back the campaign on day 1.
When I should join Patreon to have these decks?
To get all the limited and unlimited edition, you should join Patreon in October 2020. If you want the free Infernal Anima EX included in the annual package, you should upgrade to yearly Patreon in 2020 – you have time since December 31, 2020.
What if I want more than 1 deck each on Patreon?
You can subscribe for the "Broadsword of the Conqueror" (that doubles anything you'll get from the regular sword) or the "Massive Sword of the Conqueror" (that triples anything you'll get from the regular sword). These multiply only the physical reward, the TWI discount and the other perks will stay the same.
Which perks include Patreon?
Patreon Sword include a 9% discount on Thirdway Website, some flash sales events reserved to Patrons, previews, informations and backstories on Thirdway Industries decks. If you love my stories, I really encourage you to join 🙂
What happens if I join annual Patreon in Oct 2020?
You will be charged upfront for the whole year, and you'll be a member until 1 November 2021. The subscription will renew automatically, but of course you can cancel it anytime. You will get the last quarter 2020 Rewards + the annual 2020 rewards (the seven SINS decks).
Of course you will recieve also the rewards from January to October 2021, that are not planned yet.
When those decks will be delivered?
My plan is ship Kickstarter and Patreon in early 2021.
Why SEVEN editions?
The main reason I am doing this is for give a super high value to all my Patrons as the last reward of this year. 
The other reason is artistic. This remake should have been a "Player's edition", a relatively cheap option for the ones who want to play with SINS. 
However, I am aware that many collectors loved the premium boxes I made for the Original edition and I didn't want to disappoint them.
Like almost everything I do, this is an experiment. I've tried launches with 1, 2, 3 and 4 decks. Sometimes I've unlocked special editions on the go. I've never tried to go all in and release so many editions all together.
Have other questions not listed here? Mail me at giovanni@thirdway.it